Pick-R-Up utility vehicle
1:18 scale die cast replica of the iconic Fallout pick-up truck
Hard at work in the pre-war world, the Pick-R-Up was the mainstay of the hardworking tradesfolk who relied on its rugged construction to get them through their working day without ever missing a beat. The muscular V8 diesel-fusion engine, instantly recognisable by its powerful throaty rumble, lent credibility to the well-known Chryslus Pick-R-Up advertising catchphrase, "Ain't No Load She Can't Haul". This highly detailed and accurate replica, larger in size and weight than the Fusion Flea, was chosen by Chryslus to be awarded to loyal Chryslus staff who had worked at the company for five years. As you hold this superb piece of history in your hand you can get some idea of the satisfaction and pride the engineers who created it must have felt every time they pulled into a garage or passed a building site and saw it parked, waiting to go to work.
The Pick-R-Up was launched in two classic versions, the standard Cherry Red metallic body, and the golden yellow metallic, Red Rocket service vehicle livery. Either would make an excellent addition to your collection, perfectly complementing the Fusion Flea.
Metallic Paint: The lustrous deeply glossy, cherry red metallic paint (standard edition) or golden yellow metallic paint (Limited Edition, Red Rocket version)
Chromium plated: Light cowls and front fender, door handles, door mirrors, and footplates, mix matt and reflective chrome finishes for a realistic effect
Die-cast: The all-metal body gives this Pick-R-Up some real heft
Collectible accessories: 5 Years Service enamel pin, (complements 2 Years Service pin), postcard and for the limited edition a Garage Receipt and a Certificate of Authenticity
Opening doors: Inner detail of cockpit revealed, tailgate also lowers
Opening engine hood: Engine lights up with nuclear glow when hood is opened
Removable nuclear core: Glow-in-the-dark removable engine core – glows green when 'charged' by bright light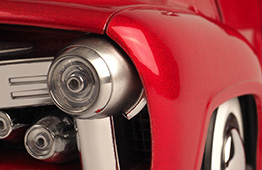 Each detail of iconic Pick-R-Up design has been carefully replicated. Extra areas of detail never before revealed show the workings of the nuclear fusion engine and the steering and suspension geometry.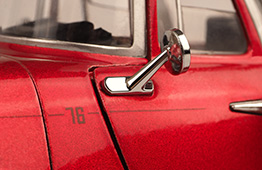 With real heft and built to last, the Pick-R-Up is a high-quality die-cast replica. Chrome plating, rubber tyres and seat, and water-clear resin parts come together to create a beautiful piece fit to grace any growing collection.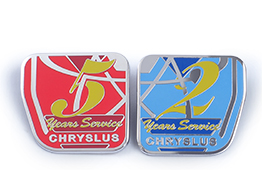 Replicating the gift given by Chryslus to their employees as a reward for five years' service, the Pick-R-Up comes complete with a special enamel reward pin that fits together with the Fusion Flea's two years service year pin.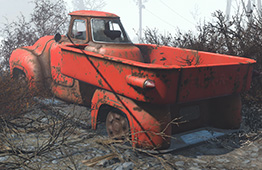 Iconic Chryslus Pick-R-Ups litter Fallout's landscape, but before the war, the growl of its muscular V8 engine rumbled with steady reliability as it hauled much-needed loads across the land tirelessly day after day after day.
If you've got a heavy load to carry you need to be tough and resilient with broad shoulders and a mile-wide smile
Whether on a job hauling heavy loads or sitting on the drive of a suburban house, the Pick-R-Up shouts utility with every angle – Imagine cruising, radio blaring, elbow resting on the wound-down window, sunshine glinting off the hood as you carry your cargo to its destination. In other lands they might call this work, but you see it differently; what honest endeavour could be more fun? It's the stuff that dreams are made of. The Pick-R-Up's advanced Chryslus nuclear-powered fusion engine, not only gives the Pick-R-Up the grunt it needs to do job at hand but is sure to give its all day after day after day, 24/7, come rain or shine, 365 days of the year, never giving up – leaving you to concentrate on the business at hand… hauling.
Chryslus Pick-R-Up
It's the tough of dreams
play – display – believe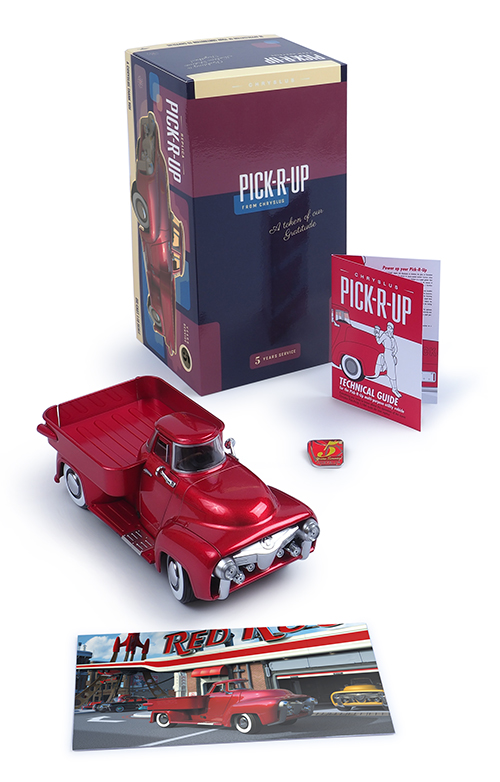 Standard Edition: Currently less than 2,500 pieces worldwide
Release date: April 2019
Packaging: Single-colour naked box with specially designed full colour box jacket
Livery: Cherry red metallic body to match the colour of the rusted Pick-R-Up seen strewn in the postwar Wasteland
Box contents: Pick-R-Up, five years service pin (red), vintage postcard, red manual
Original retailer: Worldwide all good retailers
Product history: The Standard Pick-R-Up was designed to replicate the version of the Pick-R-Up most commonly seen in the Wasteland in Fallout 4 and Fallout 76. Although it is scheduled to be produced in larger numbers than any of the limited edition versions, it will never be produced in particularly high volumes and will therefore certainly be a great addition to most serious collections.

Limited Edition Red Rocket Service Vehicle Pick-U-Up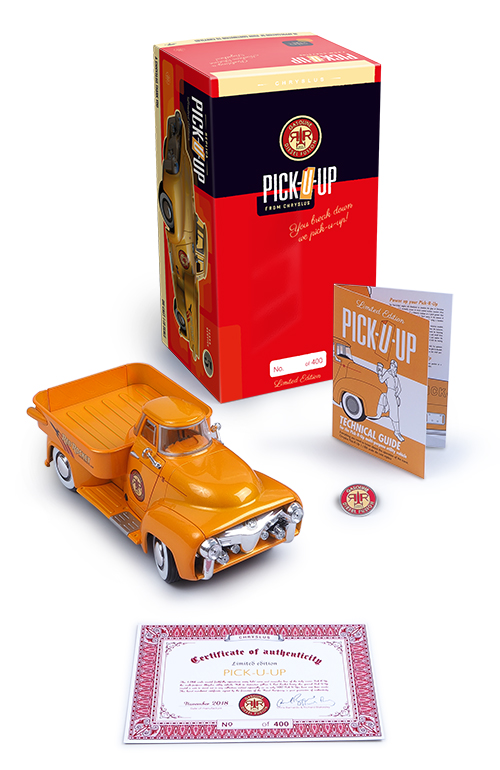 Limited Edition: 400 pieces worldwide
Release date: April 2019
Packaging: Single-colour naked box with specially designed, numbered full colour box jacket
Livery: Metallic yellow metallic body (matches the colour of the Racing Flea) with red Rocket Decals
Box contents: Special Edition Pick-R-Up, five years service pin (red), certificate of authenticity, vintage garage receipt, red manual
Original retailer: Select retailers worldwide (very limited stock)
Product history: The livery of the Limited Edition Pick-R-Up (renamed Pick-U-Up) was designed by James Barnardo to match the colourway of the Racing Flea while using the Red Rocket Service Station branding. Making the beginnings of a rare and much sort after collector's subset with the matching Racing Flea (a set we intend to complete when we release the metallic yellow Special Edition Station Wagon taxi later in 2019). Produced in very limited numbers, the limited edition Pick-U-Up Red Rocket Service vehicle is a must for the serious collector.

Where you can buy a Pick-R-Up
The Pick-R-Up is available to pre-order now online and from a few selected retailers around the world. In the US it will be available at or before launch (at the end of March or the beginning of April) from ThinkGeek and the Bethesda Store, but this product is not listed at those stores yet (note: if you find it listed at either of these stores or elsewhere, then please email The Wand Company support email or message us to let us know so we can amend this list, thank you).
In the United States: ThinkGeek (not listed yet) and the Bethesda Store, (not listed yet).
In Canada: EB Games (not listed yet).
In Europe: GameStop (not listed yet), Bethesda Store Europe (not listed yet), Zavvi (pre-order only, shipping in April)
Forbidden Planet (preorder, shipping in April), Get Digital (not listed yet) and Amazon UK (not listed yet).
In Australia: EB Games (listed for preorder, likely shipping March – April) and Yellow Octopus (not listed yet).
In New Zealand: EB Games (not listed yet).