Limited Edition Racing Flea
1:18 scale die cast replica Fallout vehicle, limited to 300 pieces worldwide
Winning on the track and in the hearts of fans all over the world, the Racing Flea captures the excitement and derring-do of a bygone age when motor racing was truly a hero's work. This strictly Limited-Edition version replicates the two year service gift Chryslus reserved for especially promising employees who through dedication and hard work had shown particular potential for management. As you hold this gorgeous piece of history in your hand you can virtually smell the fusion coolant, feel the heat of the tarmac track and almost hear the frenzy of the pits when that tricky rear wheel needed changing mid-race.
The Racing Flea comes with a real Boston Bugle newspaper clipping, a commemorative enamel pin and signed certificate. Finally, as a testament to Chryslus engineering, lift the engine hood and see the nuclear glow still shining from the heart of its engine.
Metallic Paint: The lustrous, gold and white two-tone paint finish with authentic racing decals and driver's name
Chromium plated: Light cowls, luggage rack, fender and other neatly finished polished details
Die-cast: The all-metal body gives this Racing Flea some real heft
Collectible accessories: Commemorative enamel pin, real newsprint newspaper clipping and signed, numbered certificate
Opening canopy: Inner detail of cockpit revealed
Opening engine hood: Engine lights up with nuclear glow when hood is opened
Removable nuclear core: Glow-in-the-dark removable engine core – glows green when 'charged' by bright light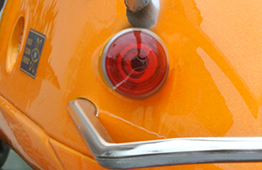 Each detail of vintage Racing Flea design has been carefully replicated. Extra areas of detail never before revealed show the workings of the nuclear fusion engine and the steering and suspension geometry.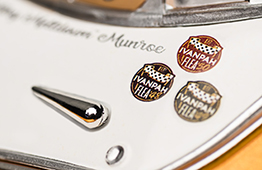 With real heft and built to last, the Racing Flea is a high-quality die-cast replica. Chrome plating, rubber tyres and seat, and water-clear resin parts come together to create a beautiful piece fit to grace any collection.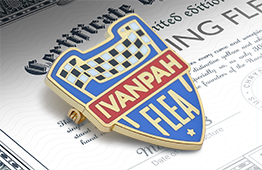 Replicating the gift given by Chryslus to their most special employees as a reward for two years' service, the Racing Flea comes complete with an Ivanpah commemorative enamel pin and hand-numbered certificate.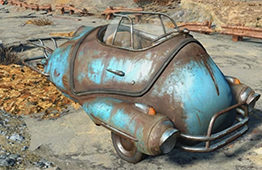 Iconic Chryslus Fleas litter Fallout's landscape, but before the war, the throb of the Flea's neat little racing engine burbled with winning promise as it screeched round every corner.
If you can hold your line when others are running wide, you're doing something right
Whether on the track or in the garage, the Racing Flea bursts with pride from every angle – Imagine strapping yourself in on a gloriously sunny track-day knowing that you had every chance of being the best. Imagine the thrill of nursing the spritely little three-wheeler through chicanes, lining it up to gun down the straight, that quirky little yoke straining and bucking in your grip. It's the stuff that dreams are made of. The Racing Flea's advanced Chryslus nuclear-powered fusion engine, not only gives the Flea its catchy moniker but is sure to give its all race after race after race, never giving up – leaving you to concentrate on the business at hand… winning.
Chryslus Racing Flea
It's the stuff of dreams
play – display – believe
Where you can buy a Racing Flea
The 300 pieces of this special limited edition were available from at the Bethesda booth at E3 2018 and online at ThinkGeek.com, but have now sold out.