Star Trek TM: The Original Series
Bluetooth® Communicator Prop Replica
The Wand Company is proud to present our Star Trek: The Original Series Bluetooth Communicator. This exceptionally accurate and highly detailed working replica was revealed on ThinkGeek's booth at San Diego Comic-Con in July 2015.
Our new Communicator is an advanced Bluetooth enabled speakerphone that is compatible with all Bluetooth enabled communications equipment worldwide, such as mobile phones and music players.
Highly accurate: Created from 3D scans of the last known hero prop
Fully functional: Easy to pair with any Bluetooth compatible mobile phone
Authentic function: Use the classic flip action to answer calls
High quality: Die-cast zinc, CNC machined aluminium, iridescent coated jewels
Contactless charging: Built-in lithium polymer battery
Immersive play features: 17 new authentic voice clips and 3 Original Series Communicator sound FX
Gorgeous transit case: Moulded foam lined transit case and leatherette pouch
The Wand Company's
attention to detail

combined with state-of-the-art technology brings the fantasy to life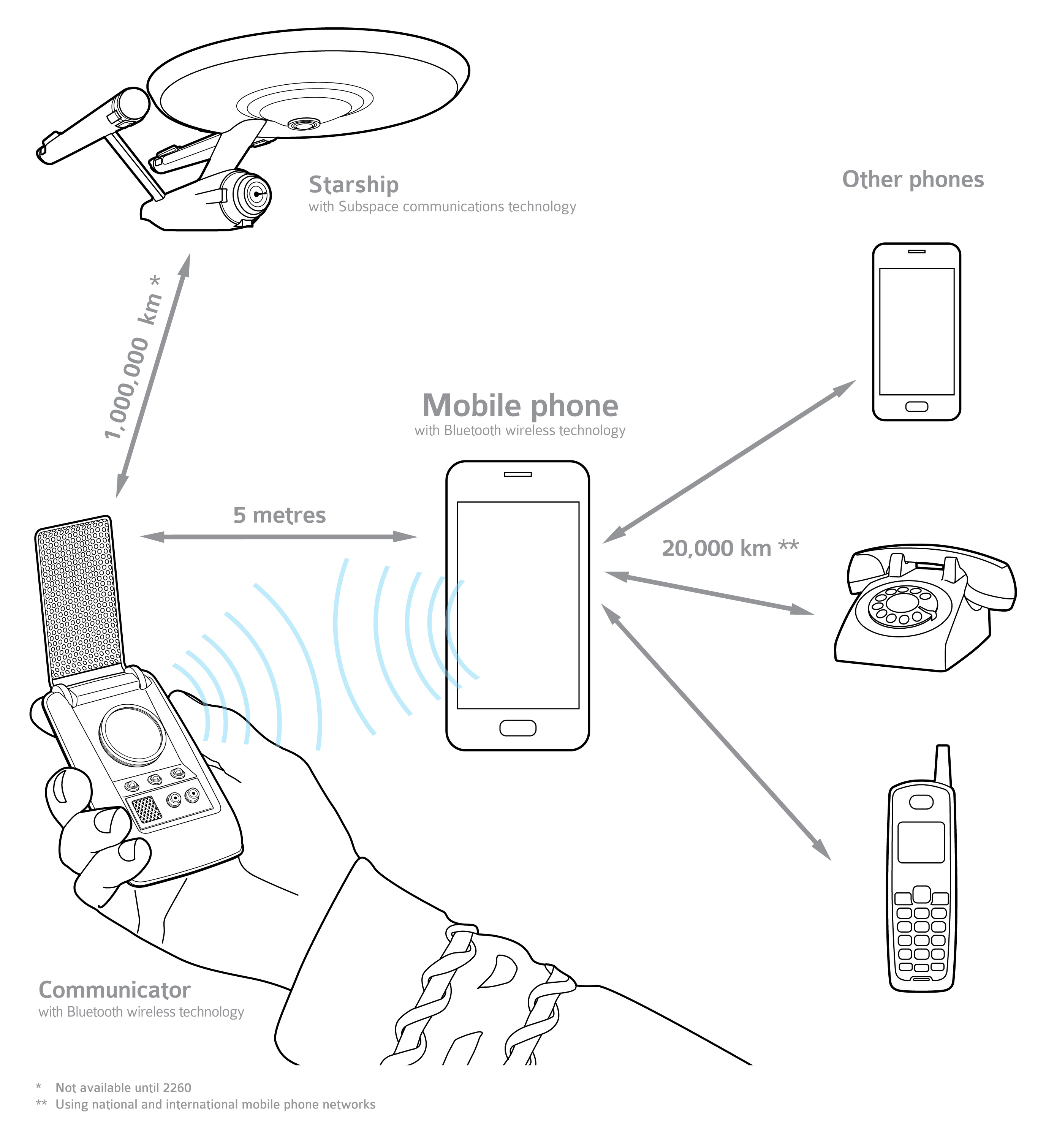 This Original Series Bluetooth Communicator is not a toy: it is an advanced, Bluetooth wireless technology enabled communications device, designed to pair with a mobile phone and thus permit near instantaneous person-to-person communication at a considerable distance. When paired with a device capable of streaming music, the Communicator may also be used as a wireless music speaker.
This Communicator has been developed to give its owner the maximum level of enjoyment; designed using extremely accurate 3D scans of one of the last remaining communicator hero props from the 1960s Original Series television show, dedicated attention to detail, the use of authentic materials, textures and finishes and the tireless support and extraordinarily deep knowledge of HeroComm.com so generously given to us, has resulted in a fully functioning, display grade product that is highly faithful to the original prop.
The Communicator is robust enough to be used in play and cosplay. With its authentic sound effects and original voice clips, the Communicator provides plenty of opportunity for in-universe interaction and fun, and of course its Bluetooth functionality enables it to be used exactly as it was always intended – as a person-to-person communications device. The Communicator is not a walkie-talkie. In order to use it to talk to another person, you will also need a Bluetooth-enabled mobile phone (or internet phone) that can make and receive telephone calls.
Pairing and using the Communicator with a Bluetooth enabled mobile phone to receive and make calls is straightforward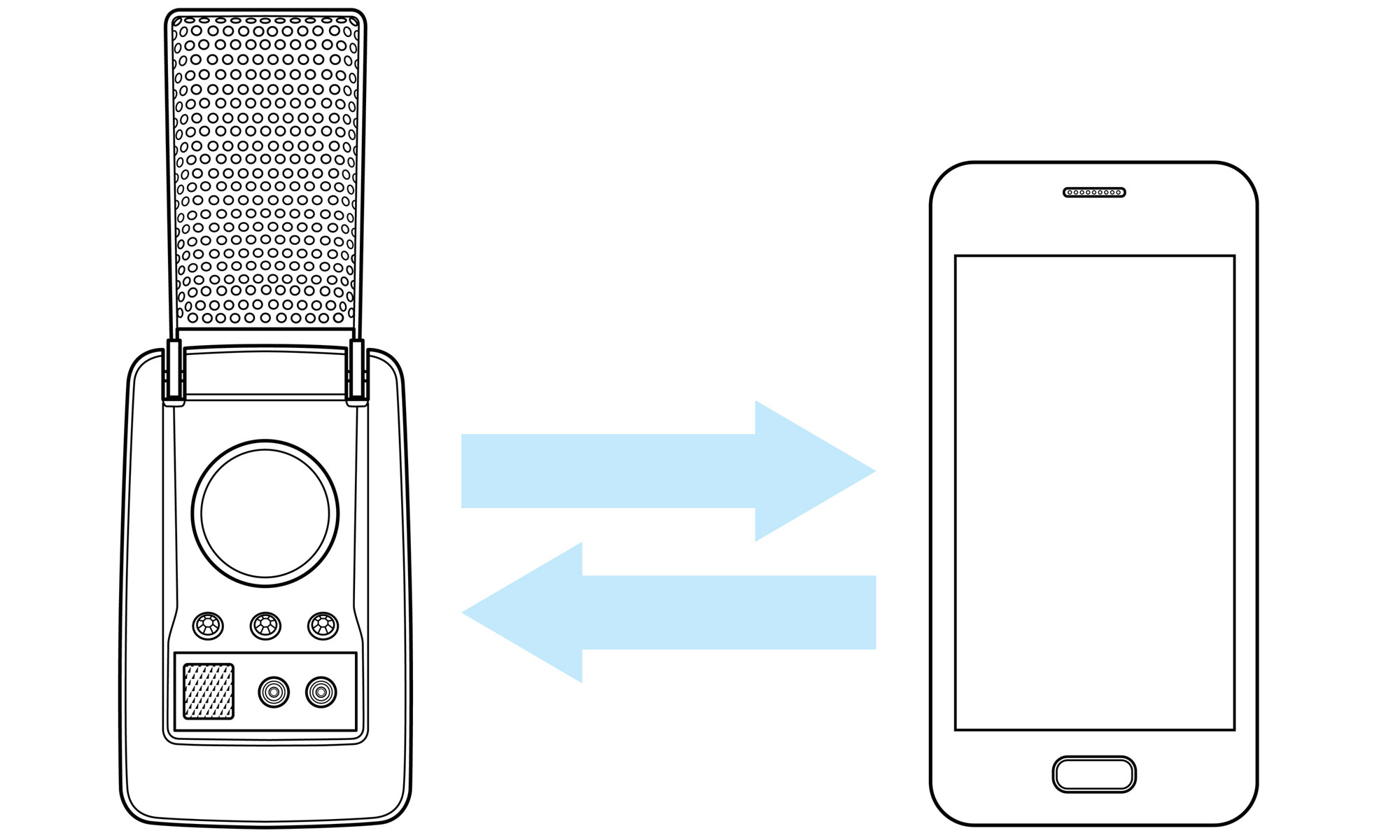 Pairing with a mobile phone is a simple procedure.
Once the Communicator is paired with a phone, just flip open the antenna grille to answer an incoming call.
Press and hold the right-hand button to initiate voice dialling (or to access other functions available via voice-activated assistants such as Siri on iPhones, Google Now on Android or Cortana on Windows phones).
Double-click the right-hand button to pause and play music.
20 authentic Star Trek voice clips and Communicator sound FX can be accessed at any time via the right-hand 5-way jog button.

What people are saying about the Communicator
The press
The Verge
The little device was actually designed using one of the original props from Star Trek, and is composed of a combination of pressed metal, aluminum, and textured plastic. Without having actually lived through the 1960s, I thought it felt authentic — weighty and purposeful for people in Starfleet. The grill flips opens with the actual sound effects from the show, and the speaker and transceiver make it look truly like a 23rd century artifact.
The Thrillist
That sound you may have heard earlier today? The excited sobs of Trekkies everywhere when they saw that this bad boy is soon going to be a reality. The Wand Company just threw down a certified replica of the iconic Star Trek Original Series Communicator. A fully-functioning certified replica. Yeah!
Gizmodo
This Bluetooth-equipped Star Trek Communicator is going to enable my bad habits even further—and my friends will hate me for it. Created by The Wand Company, a toy outfit that has a penchant for designing nerd treasure with actual real-world function.
Pocket Now
Here's where things get intense. The Wand Company wasn't content merely to kick out a slightly refined version of the communicator toys we've seen for years; rather, building on the reproduction expertise it demonstrated with its earlier phaser remote control, it's made the Star Trek Bluetooth Communicator a fully-fledged, museum-quality replica.
The Trek Collective
…it is also probably the best reproduction of that prop ever offered.
Our customers
"It's so great that you build all that stuff from the original show!!! Thanks for that!! I will buy some!"
"I wish I could high five each and everyone one of you at The Wand Company you all def deserve!"
"This is absolutely amazing. I just got through studying it. Heck, even the diagram is fantastic. I can't imagine how great it will be to actually hold one of these in my hands."
"I am very much looking forward to this, if it works like I hope it works, I may never talk directly on my phone again!"
"I've never even watched Star Trek and I honestly want this. Looks awesome."
"This is awesome, Wand Company! Have wanted one of these for a long time and this was a great surprise when I came across it today! Every one of your products so far has been great! Keep it up!"
"I've been involved in the Star Trek prop-building community for a long time, and this is the holy grail. Commercially available "replicas" made up to this point have been pretty lackluster…and come in at many times the price of this and had no practical functionality at all."
"This will look fantastic sitting next to my Phaser can't wait."
"Wow. You are spoiling us now….but THANK YOU!!! An already top quality product just got better!"
A Communicator that really works is a dream come true for fans who have waited 50 years for the function of this iconic prop to be realised.
Ever since James Tiberius Kirk flipped that gold-coloured antenna grille, called the Enterprise's Chief Engineer orbiting 1000 kilometres above him, and asked to be beamed up, every Star Trek fan, in fact pretty much every science fiction fan, has wistfully dreamed of having a working Communicator of their own.
The Communicator didn't just excite fans with a sense of what the future might hold for them: it actually inspired engineers to boldly go and create that future. Martin Cooper, the engineer working at Motorola credited with creating the world's first mobile phone in 1973, said it was Kirk's iconic prop that inspired him to create it.
The mobile phone has changed the way that the human race interacts. Mobile phones now dominate one-to-one and one-to-many communications; but still nothing can compare with the utter magic of putting yourself into the mindset of an intrepid 23rd century Starfleet landing party and flipping that golden antenna grille to answer an incoming call with the classic Communicator chirp, or speaking through the Communicator to your ship's computer to ask it to dial and connect you with one of your friends.
For all those fans that dreamed, now at last the wait is over – owning is believing!
Where you can order a Communicator
The Communicator is available exclusively from

Frequently-asked questions
Look down this list of frequently-asked questions to find answers that will help you if you are thinking of buying a Communicator and want to learn more about how it works.