The Wand Company's Tenth Doctor's Sonic Screwdriver universal remote control is a beautifully designed and highly detailed working prop replica of the David Tennant's iconic gadget. It has been carefully fabricated from a mix of machined aerospace grade aluminium and precision moulded engineering plastics to give a truly realistic product while mimicking the original prop down to the fines detail of the surface crackle glaze.
Its seamless construction mimics that of The tenth Doctor's own hero prop and the slide-to-extend action opens the Sonic Screwdriver with the most authentically satisfying operation. Press the slide mounted button for instant action in FX Mode, and access 10 different sonic buzzes, beeps and scanning sounds from the universe of Doctor Who.
The Sonic Screwdriver comes in a moulded-foam lined protective instrument case, which also houses the charging cable, manual and die cast metal display stand.
Our Tenth Doctor's Sonic Screwdriver prop replica is also an advanced gesture-based remote control that is compatible with almost all home entertainment equipment worldwide, such as iPod docks, TVs and Blu-ray players.
Extending: Authentic sliding action extends sonic to reveal the clear inner tube
Anodised aluminium: CNC machined aerospace aluminium components for authenticity
Guided Setup: Speech Teach, tells you how to use it with spoken prompts
FX Mode: Authentic special FX sounds from the Whoniverse at the press of a button
Advanced gesture recognition: 13 gestures in three memory banks means that 39 remote control codes can be stored
Any-TV-Off mode: Easily turn off TVs without the need for programming
Stand and blueprint manual: Die-cast metal stand with secret magnetic catch for stunning display
Instrument case: moulded-foam lined transit case
Rechargeable power cell: micro USB charging cable supplied
The Wand Company's unique
gesture-based remote control

technology brings the fantasy to life
This Tenth Doctor's Sonic Screwdriver Universal Remote Control is not a toy: it is an advanced, gesture based universal remote control, designed to control almost all home entertainment equipment worldwide such as TVs, DVD players, Blu-ray players and iPod docks, using infrared codes learned from conventional remote controls by the means of gestures rather than by pressing buttons. A total of 13 different gestures and three separate memory banks enable this Sonic Screwdriver to learn up to 39 remote control functions. At the press of the slider-mounted button, the Sonic's tip illuminates and the Sonic produces one of ten different Sonic beeps, buzzes and scanning sounds from the universe of Doctor Who, and has the power to instantly turn off any TV without any programming or code learning required.
The authentic flicking action allows the Sonic to be used in exactly the same way the Doctor uses it. The Sonic is powered by a lithium polymer rechargeable battery which is easily recharged using the micro USB cable supplied.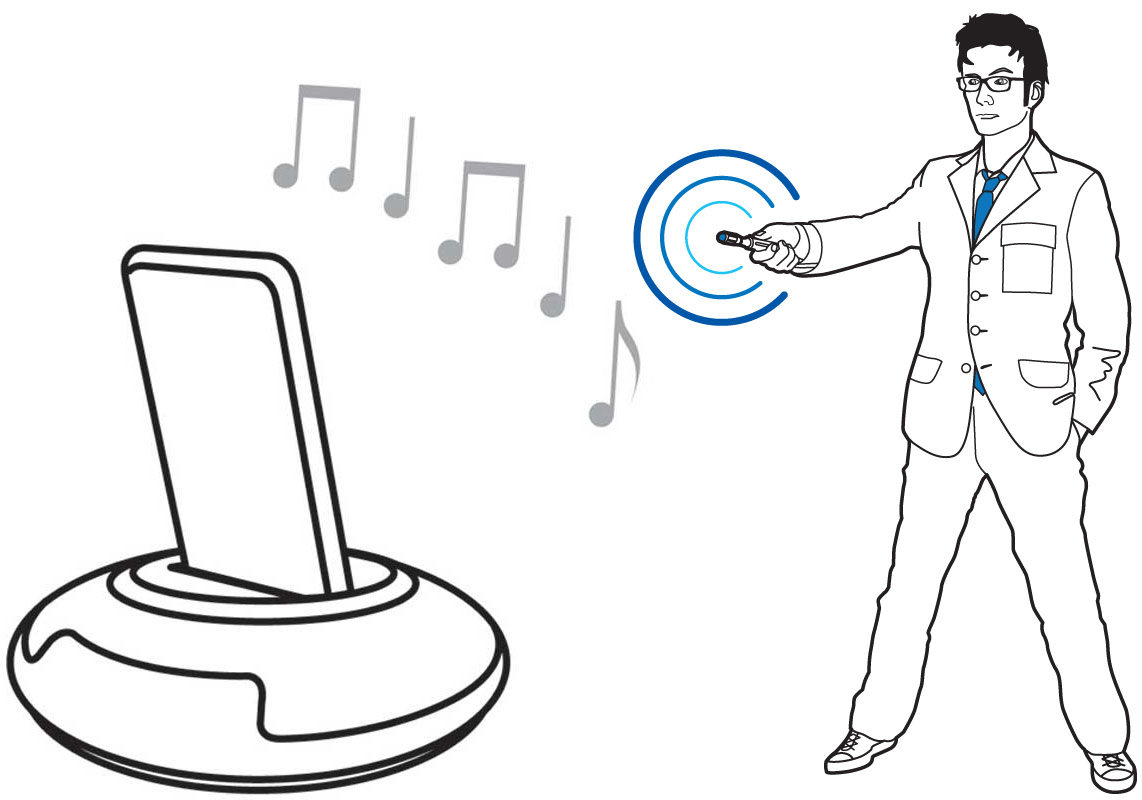 Programming the Sonic Screwdriver by learning the codes from a standard remote control is easy
To program the Tenth Doctor's Sonic Screwdriver, enter Programming Mode and perform the desired gesture; the Sonic Screwdriver will say which gesture has been done, then the emitter will glow steady blue signify that it is waiting to receive the IR code (button press) from a normal remote control. Hold a normal remote control about 1" (2.5cm) from the tip of the Sonic Screwdriver while it is glowing blue, and briefly press and release the normal remote control button for the function you want to program on to that gesture. It's that easy!

What the press and our customers say about our Tenth Doctor's Sonic Screwdriver
The Tenth Doctor's Sonic Screwdriver is packed with features that enrich the owning experience, making it perfect for Whovians of all ages
In FX Mode the Twelfth Doctor's Sonic screwdriver is always ready for action. Press and hold the slider-mounted button to light the tip and make the classic sonic buzz, just like The Doctor. Double press and hold the button down to access another nine buzzes, beeps and scanning sounds from the universe of Doctor Who, or display the Sonic on its die-cast zinc Gallifreyan disc, perfectly balanced standing upright on its end cap, held in place by its hidden magnetic catch.
Slide the Sonic Screwdriver open with it's slider pad, to reveal the clear core and internal yellow wires, just like the Tenth Doctor does on the show. Use the Any-TV-Off function to take control of any television without the need to program the Sonic Screwdriver by pressing the slider-mounted button three times in FX Mode to make it scan through all known TV-Off codes until it finds the one that turns the TV off. Click the slider-mounted button three times to broadcast one of 10 Tenth Doctor phrases as a series of Morse code beeps.
Where you can buy a Tenth Doctor's Sonic Screwdriver
Our Tenth Doctor's Sonic Screwdriver universal remote control prop replica is available from various online retailers around the world and in some places, from high street shops. A web search for "Tenth Doctor's universal remote control" will find the retailer nearest you. However, to get you started, our Tenth Doctor's Sonic Screwdriver is available from the following retailers:
In the United States: ThinkGeek and Amazon.com.
In the United Kingdom: Amazon.co.uk.
In Australia: Yellow Octopus and Latest Buy.
Frequently-asked questions
Look down this list of frequently-asked questions to find answers that will help you if you are thinking of buying a Tenth Doctor's Sonic Screwdriver and want to learn more about how it works or how accurate it is.
For further information on the features and operation of the Tenth Doctor's Sonic Screwdriver please see our online version of the full user manual, or you can download a printer friendly PDF version of the manual.