build – upgrade – display
Pip-Boy™ 2000 Mk VI upgrade accessories
Bluetooth® Stand – FM Radio – Illuminated Display Panel
The Wand Company's Pip-Boy construction kit is a beautifully designed, highly detailed and fully accurate replica of the Fallout 76 Pip-Boy 2000 Mk VI, so what could be a better way of displaying it than on a faithful replica stand from the heart of the vault itself, or extending its function with an FM Radio or Illuminated Display Panel upgrade? Designed to build on your Pip-Boy experience, the Stand comes in kit form and is a joy to build; it is also a fully-functioning Bluetooth® speaker. For the FM Radio and the Illuminated Display Panel, detailed instructions take you through the step-by-step process required to upgrade your Pip-Boy.
Using our instructions, your innate modding and survival skills, and the authentic parts we supply, you will certainly be extending the use and enjoyment of one of the most important pieces of Vault-Tec equipment. Take care and learn well; your survival just might depend upon it.
Authoritative: The only officially-licensed Pip-Boy accessories.
Authentic: Vault-Tec through-and-through; nothing comes closer to the real thing.
Original tools: Vault-Tec has supplied everything you need to build this masterpiece: no paint, glue or electronics expertise needed.
Working electronics: Fully working Bluetooth® Speaker, FM Radio and Illuminated Display Panel.
Hours of enjoyment: Look forward to the satisfaction of building your own Bluetooth speaker and adding the most rewarding functionality to your Pip-Boy.
Easy to build: No specialist skills are necessary for any of these projects.  The easy-to-follow, step-by-step instructions take you through the exciting process of upgrading this legendary piece of RobCo hardware in the comfort of your own home.
Remember: Hard work really is happy work!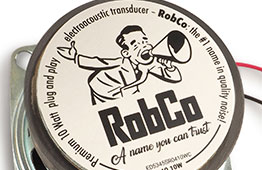 Have you ever wanted to build your own speaker? You're in luck; want no more. Build this fully-functioning Bluetooth Speaker and craft an accurate replica of the Vault-Tec Pip-Boy stand. Supplied with all the tools and instructions you need for a rewarding afternoon in the home workshop. No electronics skills needed.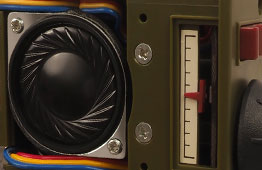 Upgrade your Pip-Boy with the glorious sound of a Wasteland Radio. Yes, RobCo have squeezed all the functionality of an FM Radio and illuminated vacuum tube lights into the housing of your favourite arm-worn computer. Tune into local and national radio stations plus 20 special Wasteland broadcasts.
Illuminated Display Panel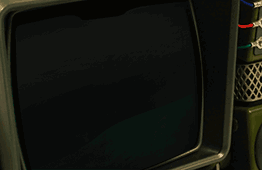 Bring your completed Pip-Boy kit to life with this Illuminated Display Panel upgrade module. Crisp graphics illuminate at the press of the top button. The malfunction function randomly provides a realistic flicker for which the most appropriately vintage fix is a tap on the top of the display housing… just like the olden days!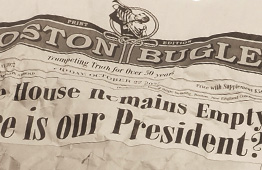 The Radio and Screen upgrades come wrapped in a page of the Boston Bugle newspaper. Printed on the last Friday before the War, the tabloid-sized page is packed with Boston's news and ads. So it's crumpled, maybe even torn a little… perhaps you'll iron it flat, or perhaps not, because that's just how it's meant to be.
Now you can upgrade the future; put the fun into functionality!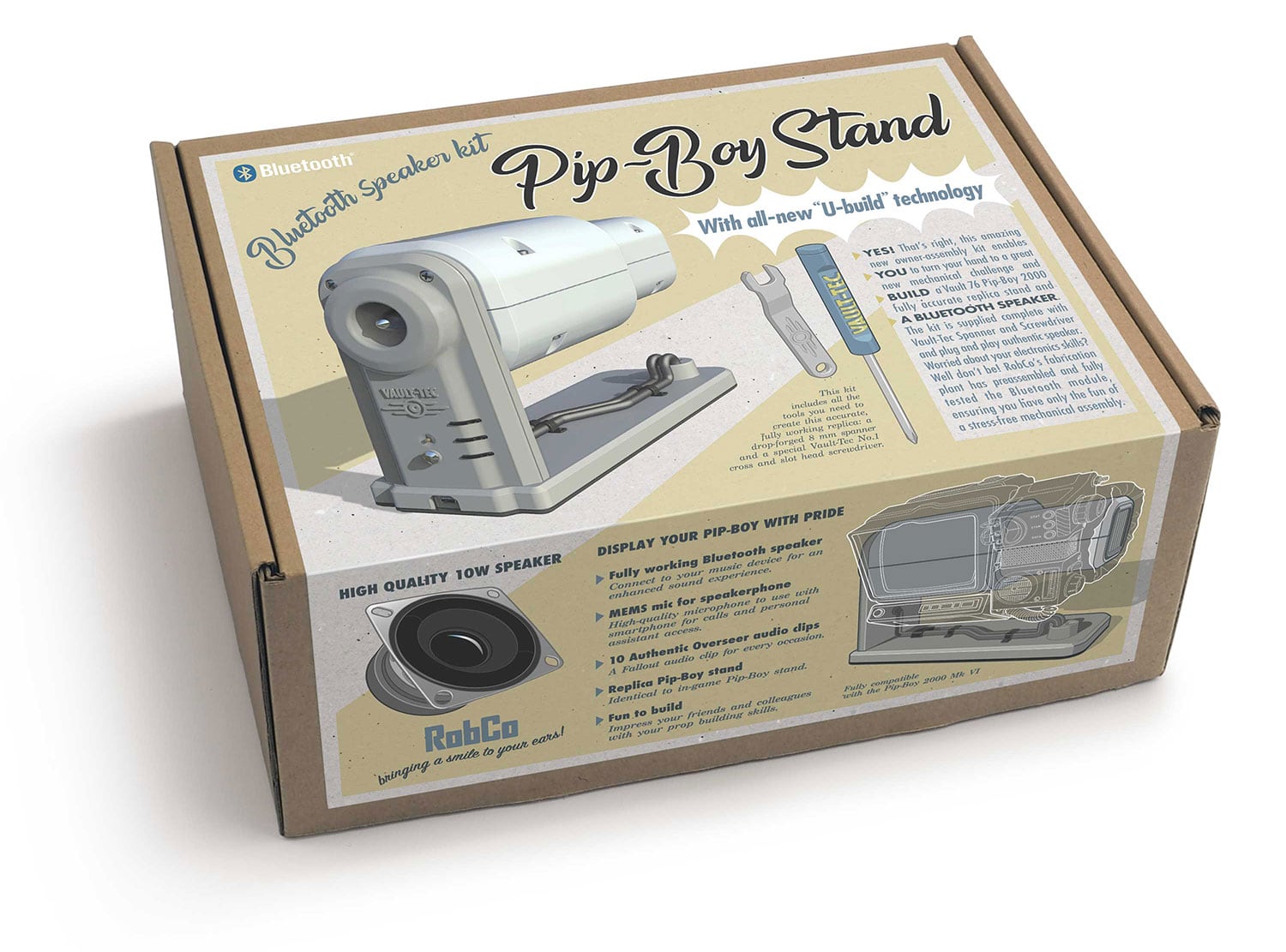 Bluetooth Speaker
Pip-Boy Stand Replica Kit
The self-assembly Pip-Boy Stand Kit comprises over 60 components and pre-built sub-assemblies, enabling any fan, with no previous electronics skills, to build their own fully functioning Bluetooth speaker which is also an accurate, display-grade prop replica of the RobCo Pip-Boy 2000 Stand. It's the perfect way to display your Pip-Boy.
Authentically game-accurate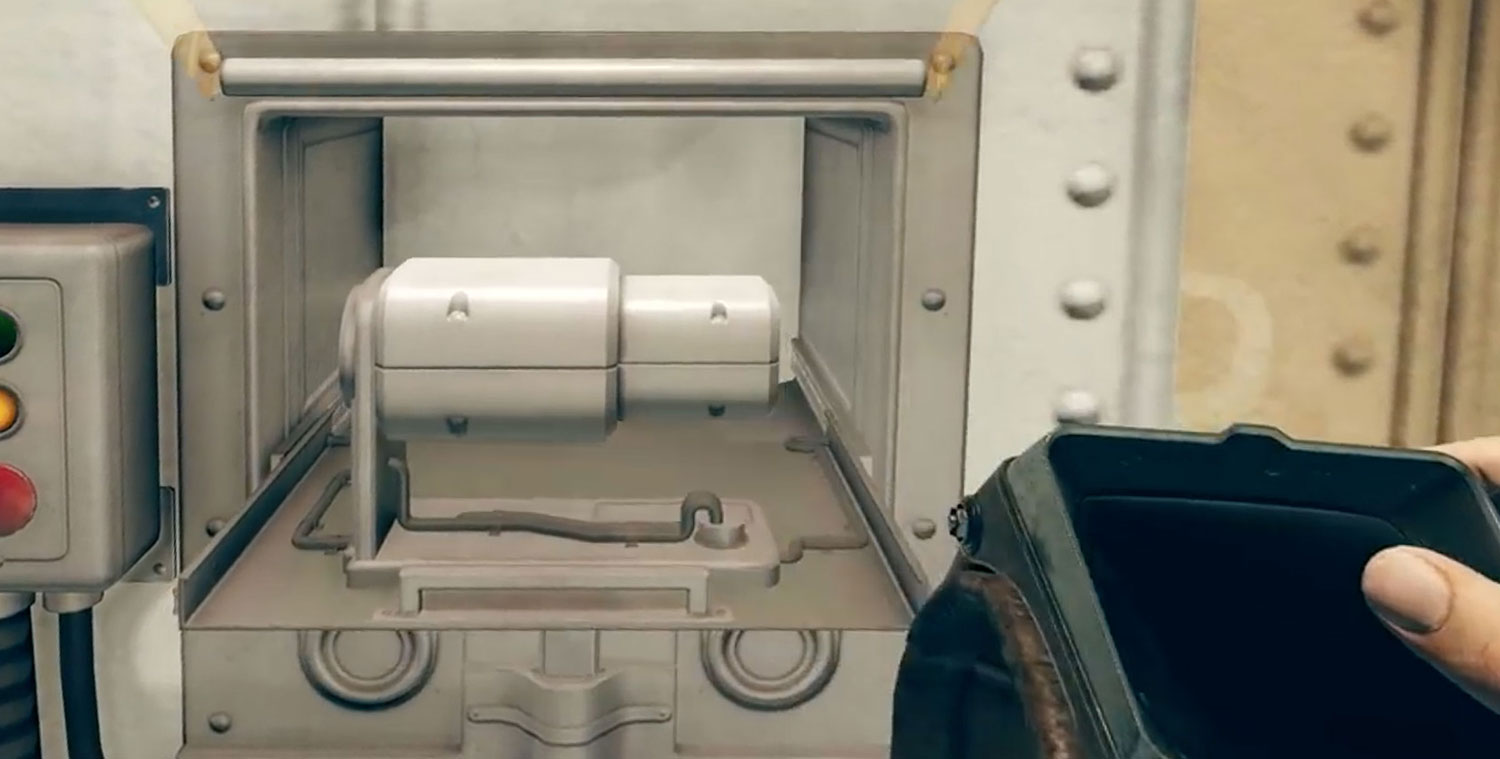 Routinely installed as part of a vault's standard service equipment, this faithful replica ensures that your Pip-Boy will always be stored in a convenient location within your vault, and thus easily accessible to you when you need it.
The vault-dweller who wants to take their mind off the post-apocalyptic desolation, who has an hour or so to kill and fancies some audio entertainment to lighten the mood, will delight in building this kit with added music-playing functionality via its advanced Bluetooth capability.
Easy-to-follow fully-illustrated instructions
Guided by the detailed instruction manual, the rewarding construction will impress your campmates with your advanced speaker-building skills. Once built, as well as playing music from any suitable music streaming device, you'll discover that the Overseer has thoughtfully embedded 10 authentic comments to guide you through your day, each playable at the touch of the metal control button. The Pip-Boy Stand also includes a high-quality MEMS microphone so, if needed, it can be used as a handsfree speakerphone when paired with a suitable mobile phone.
The perfect way to display your Pip-Boy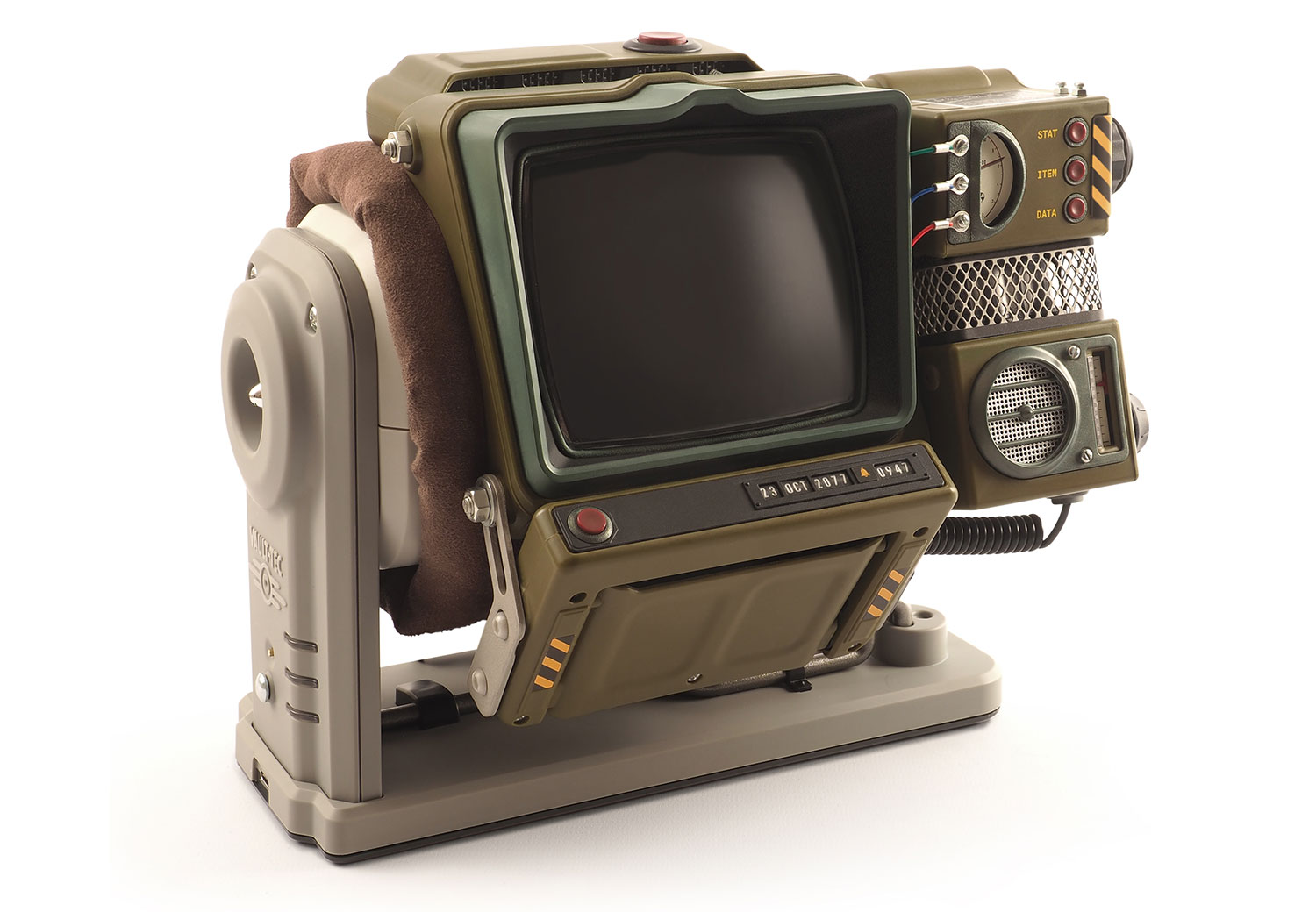 Pip-Boy Stand: game-accurate
Bluetooth speaker for music-streaming
Overseer audio: 10 clips included
Building excitement: takes one to two hours
Plug and Play: no electronics skill needed
MEMS microphone for handsfree clarity
Vault-Tec tools: everything you need
USB-C cable: plug in to power up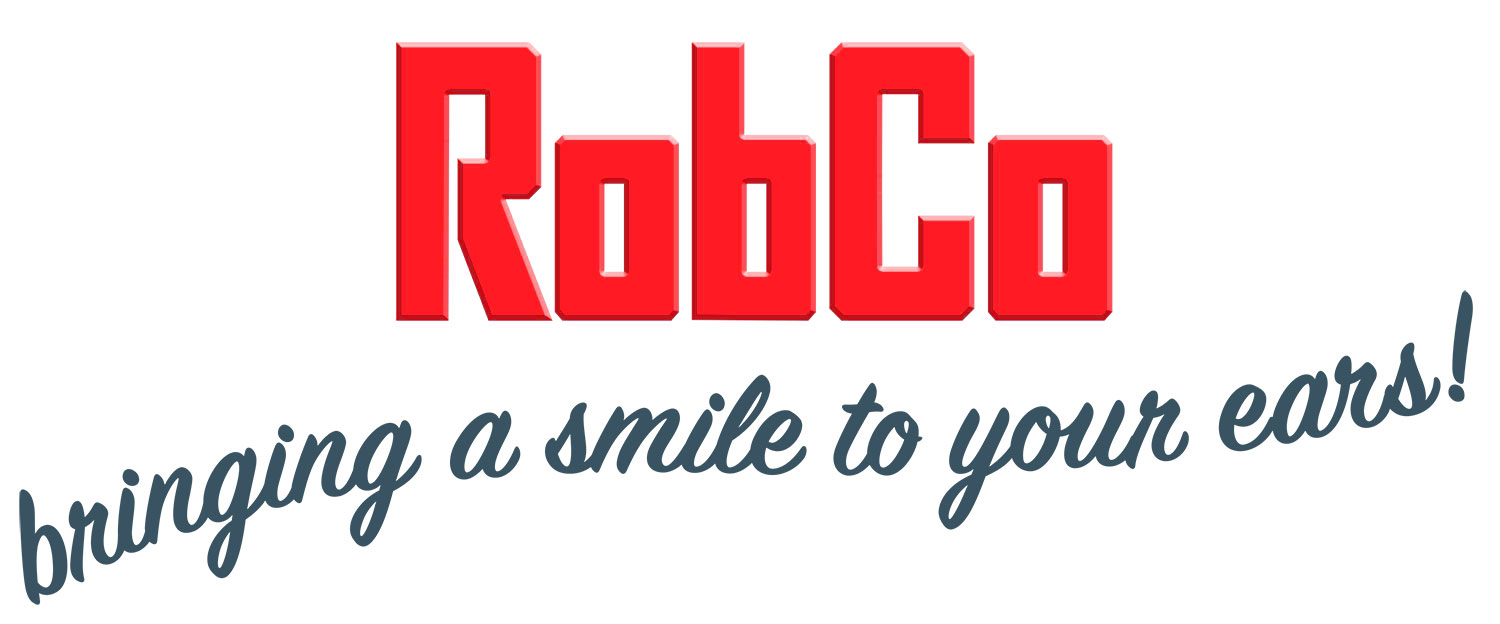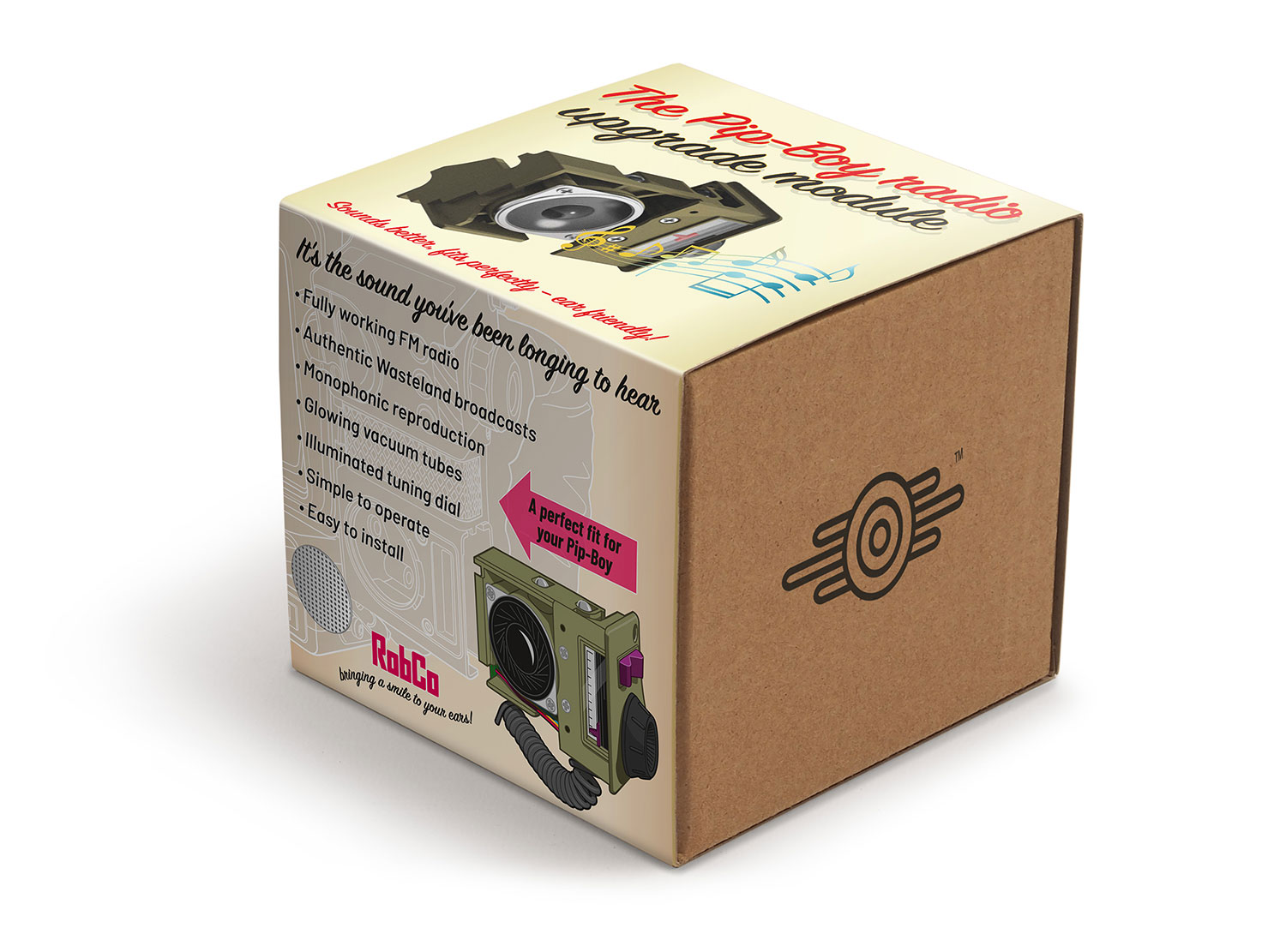 Upgrade Module
FM Radio with Wasteland broadcasts
A fully functional FM radio and vacuum tube illumination upgrade for the Pip-Boy 2000, supplied with power cells, which is easy to install and fun to use with its real FM radio functionality, 20 fantasy in-universe Wasteland broadcasts and crackling vacuum tubes. It has to be the finest Wasteland tone-quality you'll ever hear.
About as real as you can get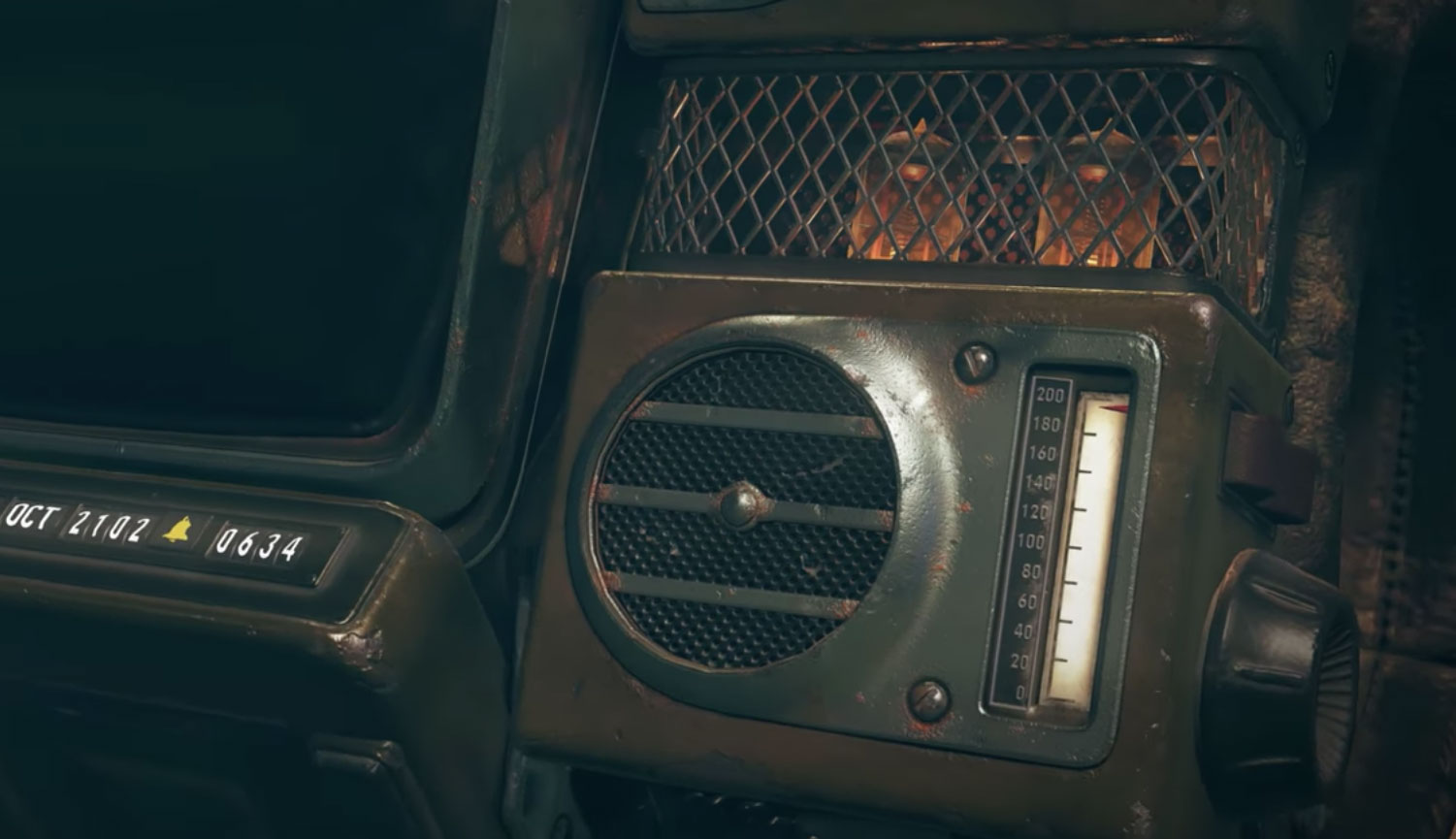 The genuine FM radio brings you local and national radio stations (where available from your broadcaster) from the comfort of your forearm. The simple controls could not be easier to operate – once powered-up, a quick click of the rocker switch and the radio seeks the next available station, while a long press adjusts the Radio's volume. Turn the tuning knob to "tune in" to any one of the radio's 20 built-in Wasteland broadcasts offering emergency information, advertisements, and useful survival tips. It's a dream come true.
The perfect fit for a perfect upgrade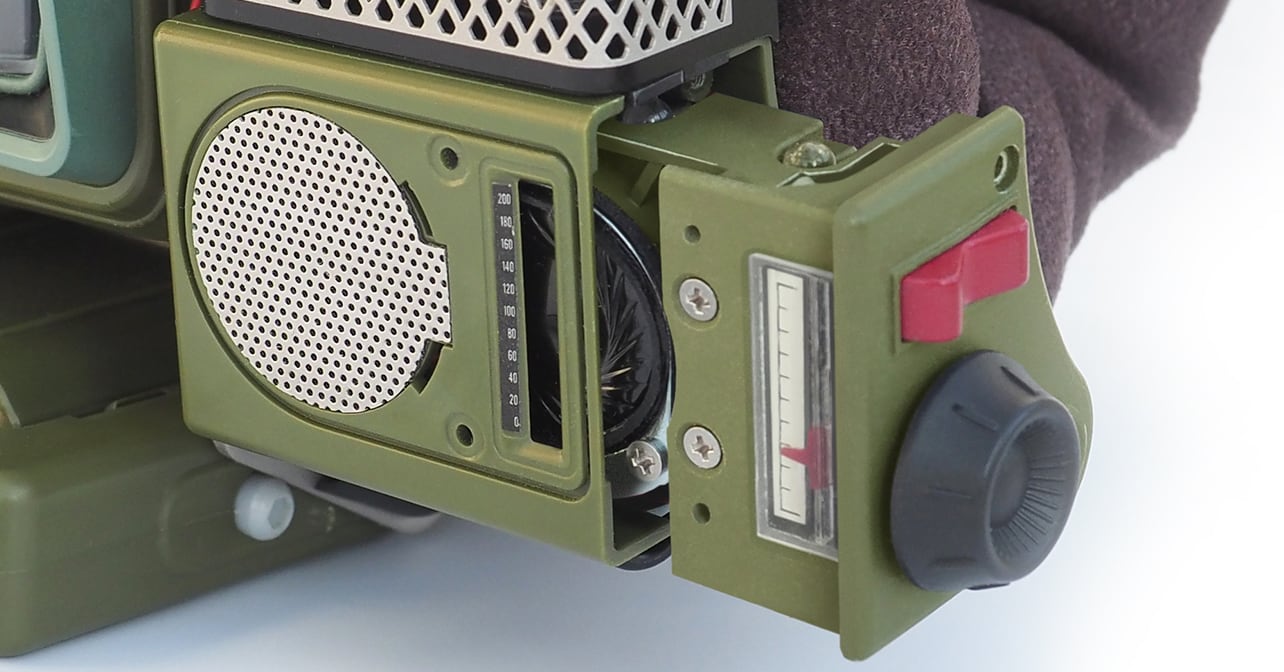 Follow the clear instructions to upgrade your existing Pip-Boy with this amazing FM radio and vacuum tube illumination module.
Delight in the unboxing as you realise that the Radio Module is wrapped in authentic newsprint of the iconic Boston Bugle newspaper and discover that the three AAA-sized fusion cell replicas included are supplied by Mass Fusion, ready to power-up your Pip-Boy's FM radio. Once the radio is installed, turn it on with a single click of the rocker switch. Observe with mounting excitement as the vacuum tubes buzz and crackle into life, glowing a warm reassuring orange, and listen carefully as you hear your Pip-Boy's radio for the very first time.
Power your Pip-Boy Radio with the fuel cells supplied

Fully working FM radio: local and national broadcasts
Wasteland broadcasts: turn the tuning knob to hear one of 20 Wasteland broadcasts, including emergency messages, survival tips and in-universe advertisements.
Glowing vacuum tubes: bright orange LEDs realistically illuminate tubes
Illuminated dial: a warm dial glow lights the way
Simple to operate: a single rocker click and the radio powers up… the rest is easy
Easy to install: fFull instructions take you through the simple steps needed to disassemble your Pip-Boy and install the FM Radio Upgrade Module.
Boston Bugle: it's all wrapped in an authentic newspaper printed two days before the bombs drop
Fusion cells included: three AAA-sized cells are just what you need to get going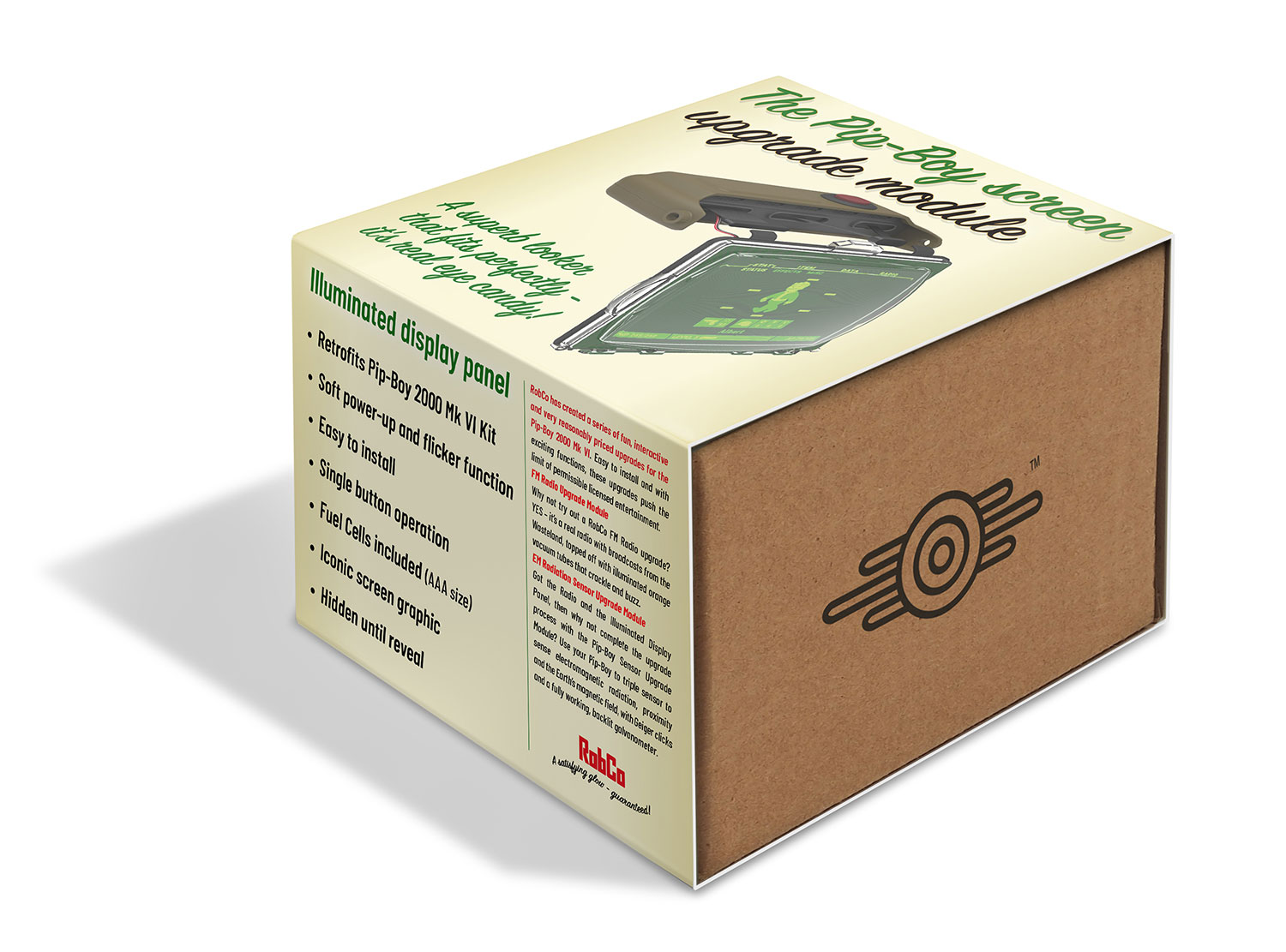 Upgrade Module
Illuminated Display screen
Bring your Pip-Boy to life with this illuminated display panel upgrade module. Retrofit the screen to an existing 2000 Mk VI kit or build it in when first assembling the kit. Either way, the module is guaranteed to brighten your day with its fun Malfunction Function™ and authentically vintage Tap-to-Fix™ action.
Get that satisfyingly warm in-game glow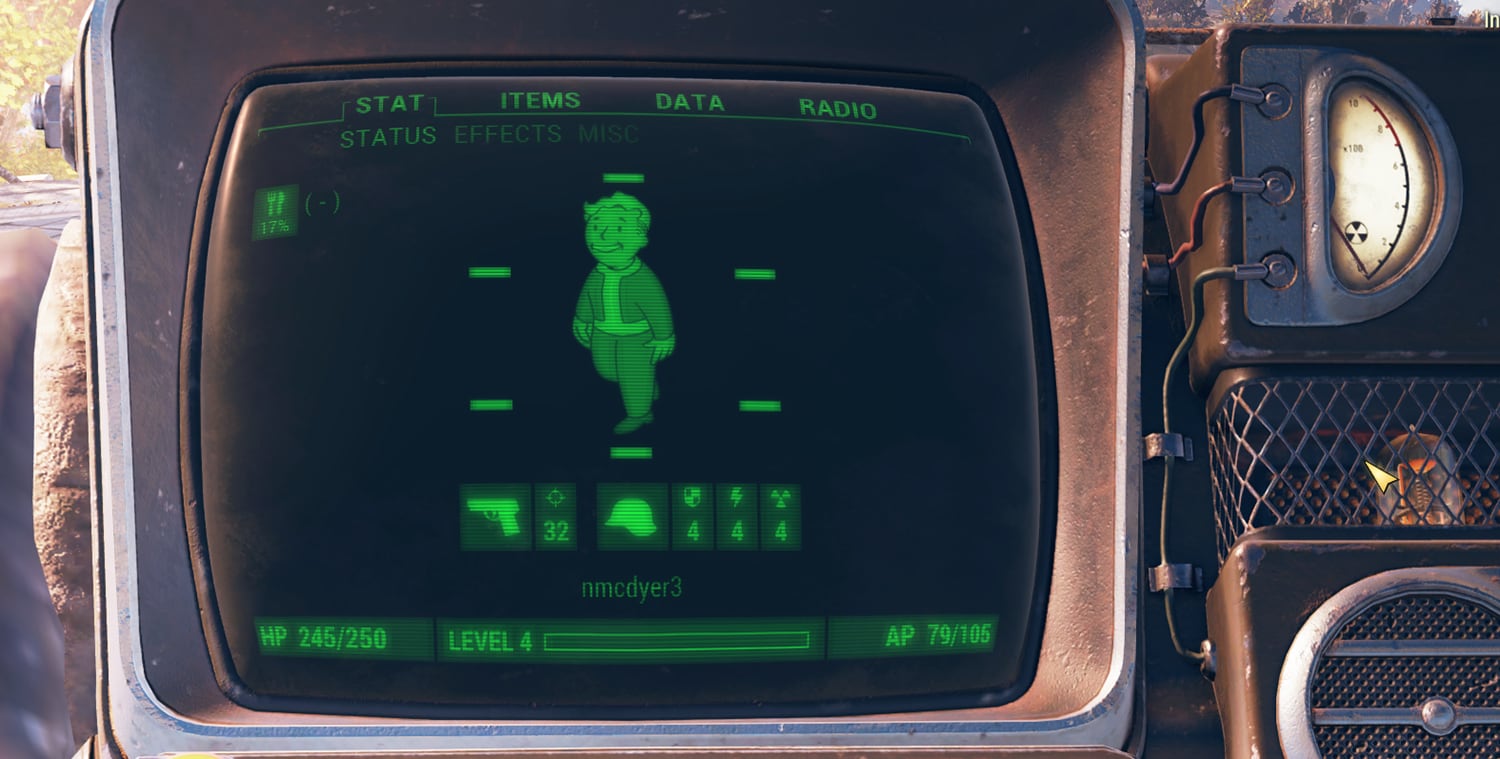 Beam with joy when you realize that these beautiful components are wrapped in an authentic Boston Bugle newsprint page and discover three AAA-sized fusion cell replicas, to power your display panel, are included.
Once the illuminated panel is installed, press the power button on the top of the Pip-Boy's main control box housing to fire up the display. Marvel at how sharp the image is when viewed through the crystal clear Tritan™ monitor glass; nothing could be more perfect…
… until it all goes wrong that is!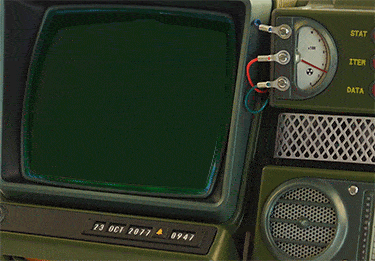 And yet then, in a strange way, when it starts to falter, it gets even better. Because, as you may have come to expect from a piece of Wasteland engineering, sooner or later (randomly within three minutes in this case) the display starts to malfunction and, when it flickers in a most pleasingly authentic way, you really feel that you are there, in the thick of the action. However, when it does start to fail, don't worry, help is at hand… actually, help is at your hand, when you engage the Tap-to-Fix™ function by delivering a swift tap or two to the top of the housing to stop the flickering and restore normal function.
Everything you need to light up your screen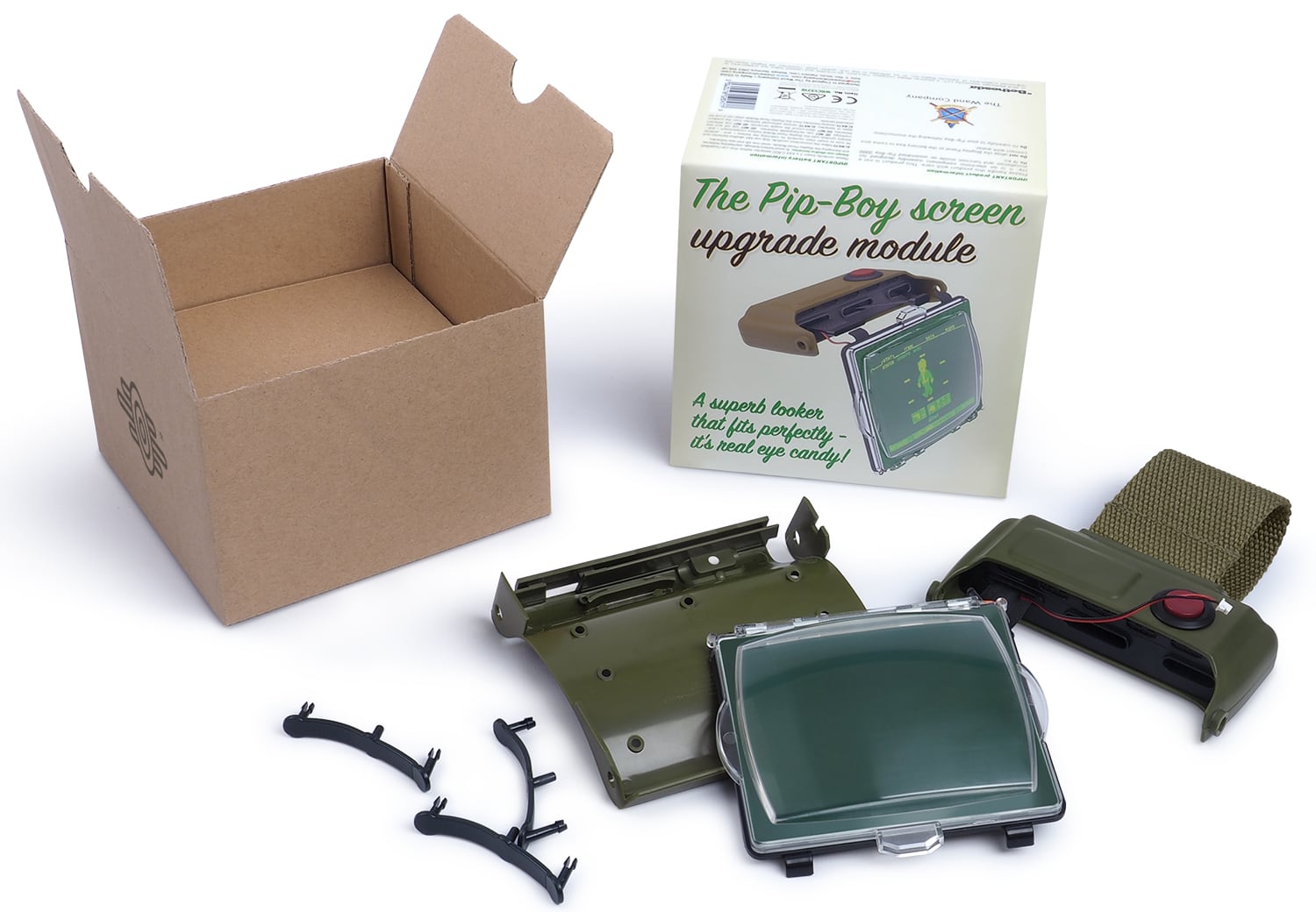 The perfect upgrade: complete enlightenment
Malfunction Function™: something wrong is so right
Tap-to-Fix™: the old fashioned way
Pip-Boy's Main Screen: Vault Boy home screen
Glass-like highly polished, Tritan™
Simple to operate: press button and admire
Easy to install: follow the instructions
Boston Bugle: collectible packaging!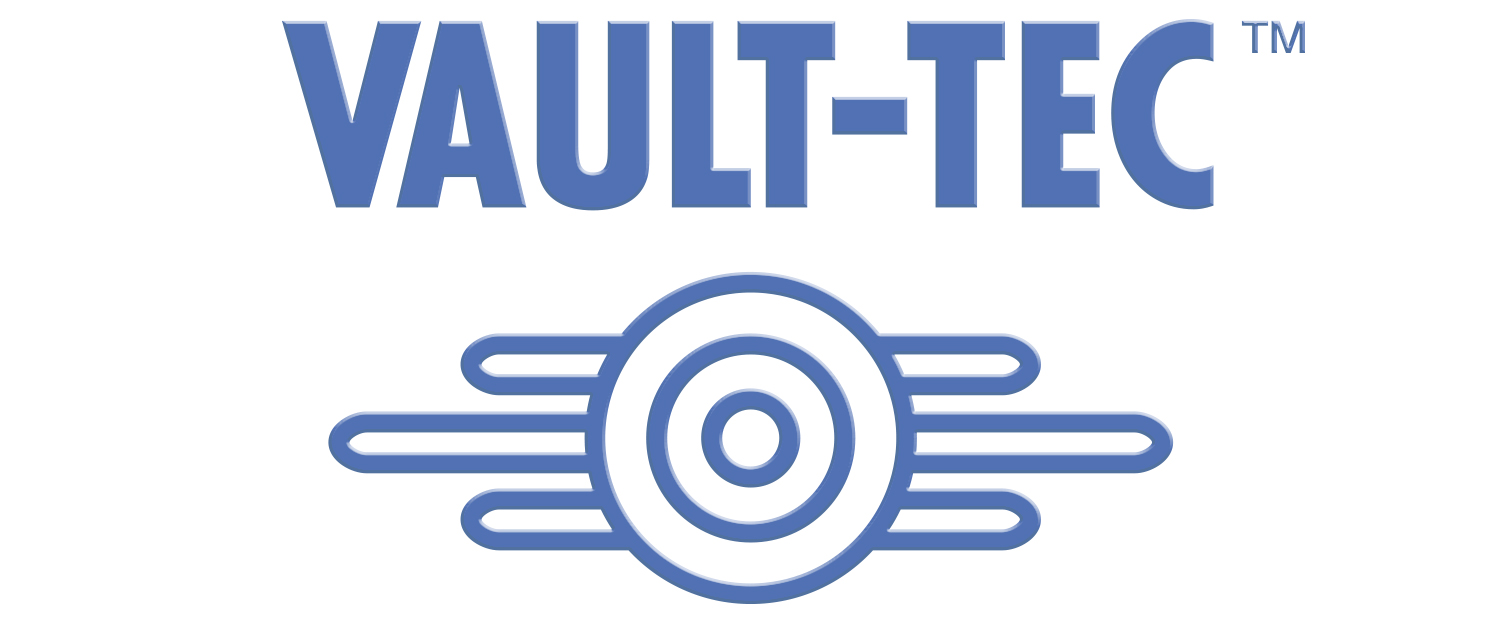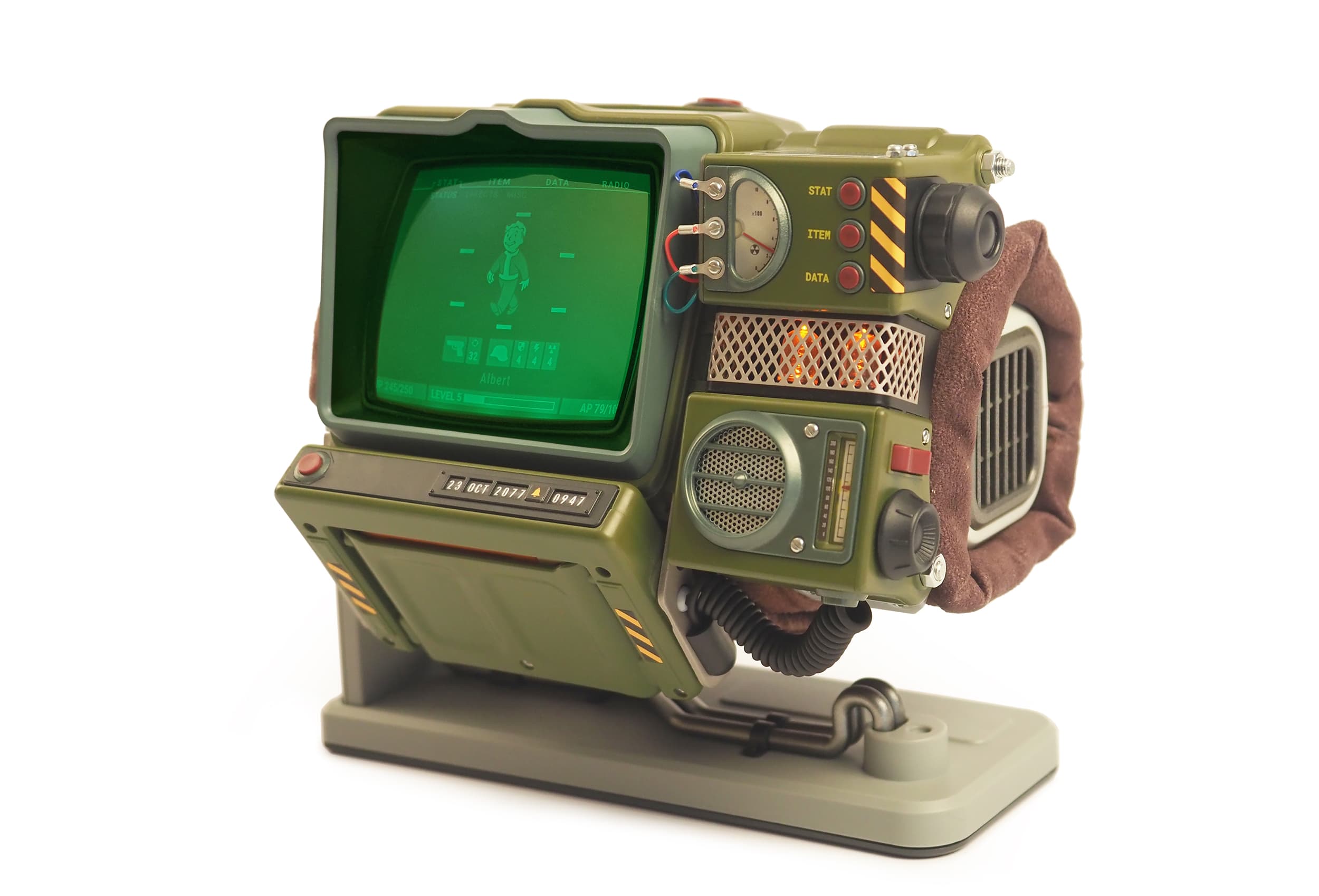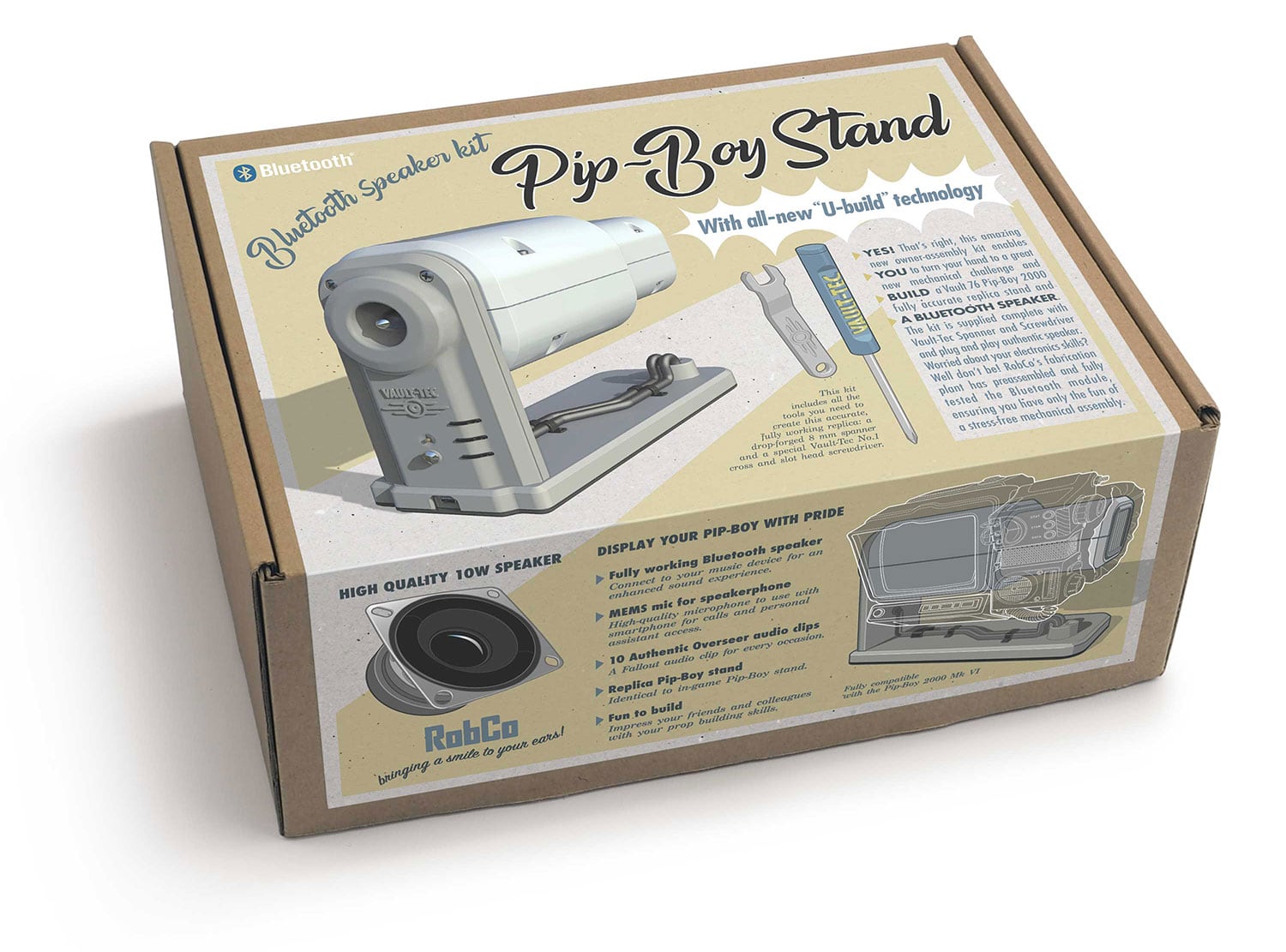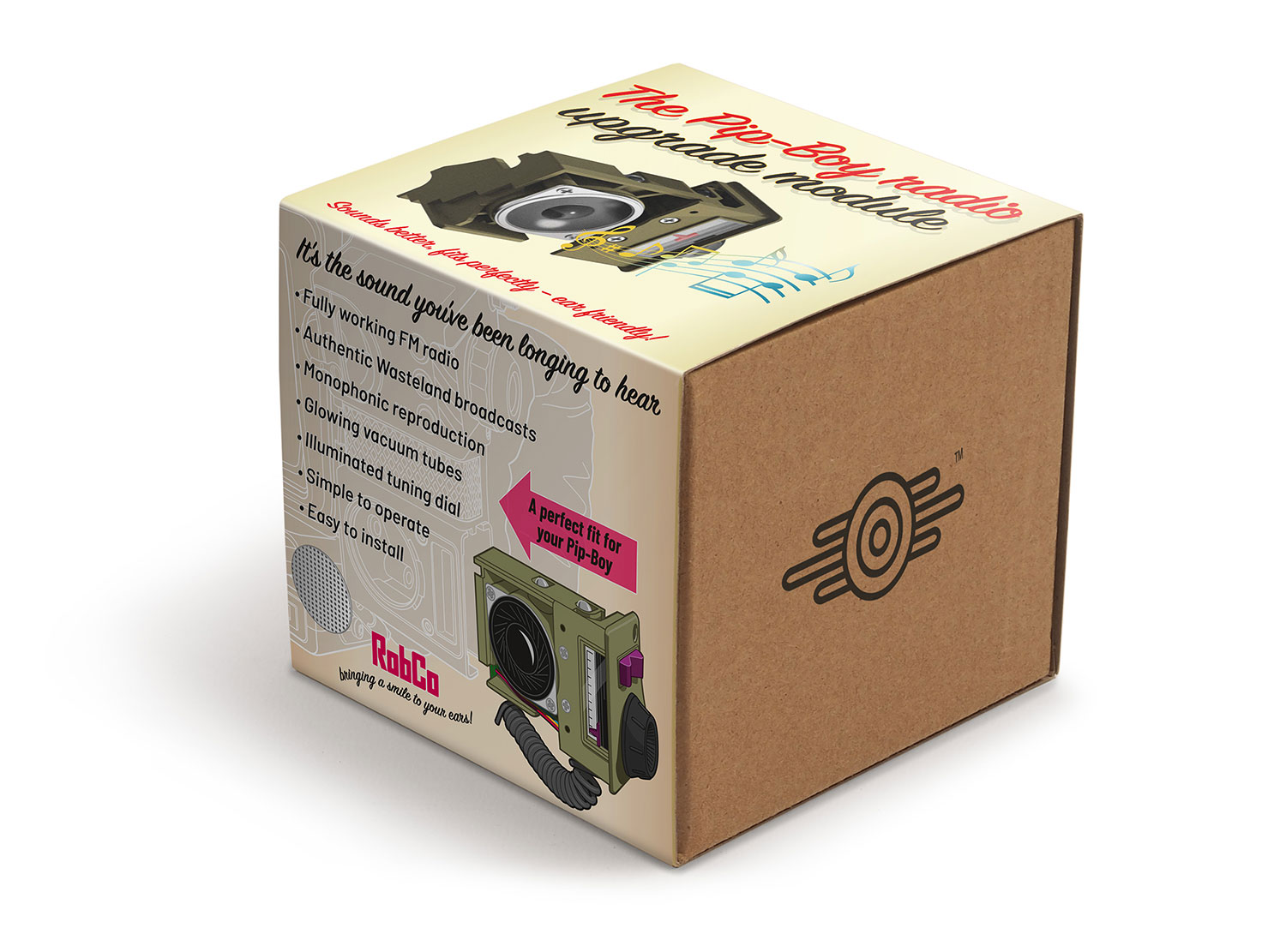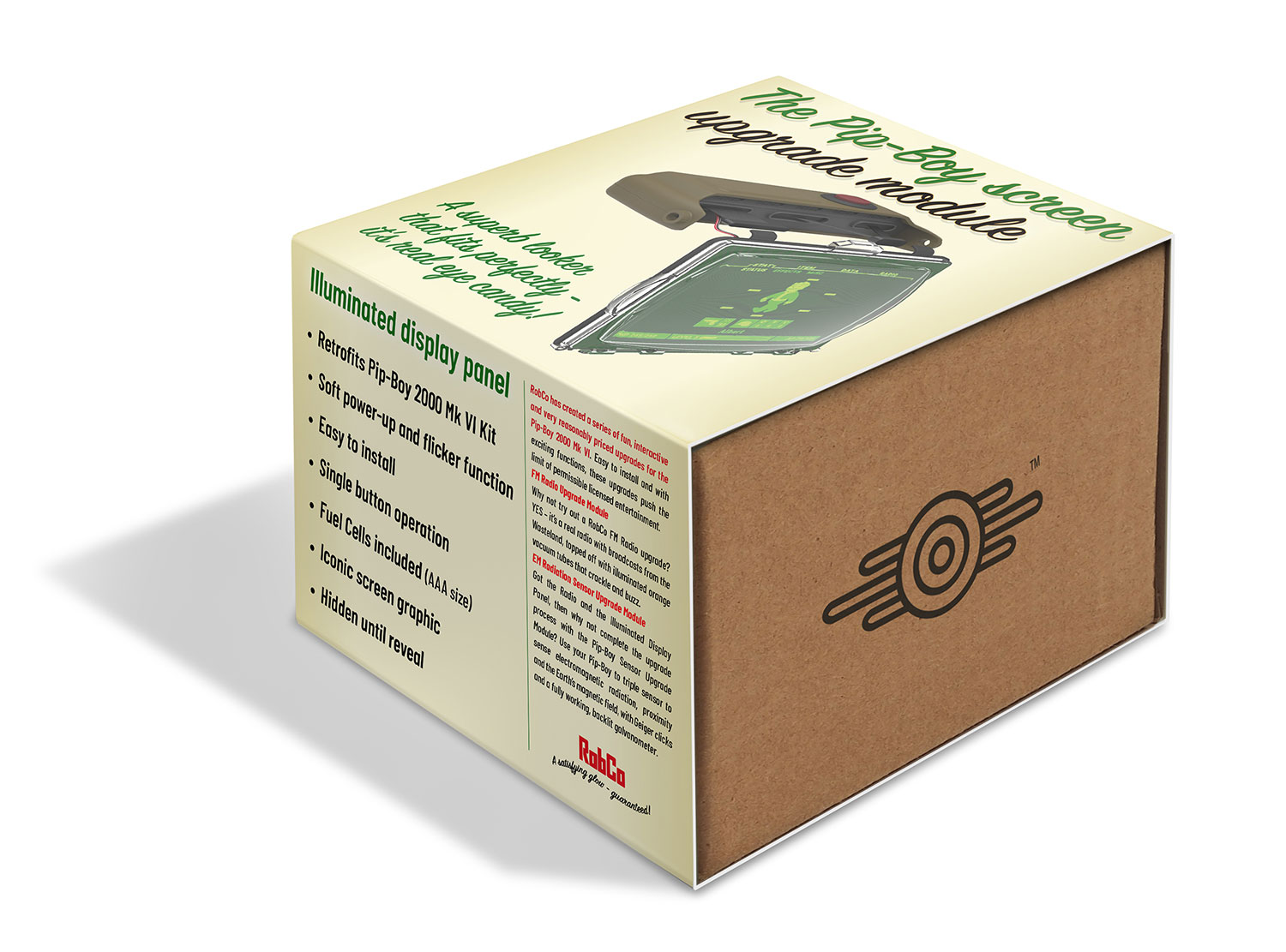 Frequently-asked questions
Look down this list of frequently-asked questions to find answers that will help you if you are thinking of buying one or all of the following:
Stand Replica Bluetooth Speaker Construction Kit

,

FM Radio Upgrade Module

Illuminated Display Panel Upgrade Module
and want to learn more about them, how accurate they are and whether they are going to be the right thing for you.