The Wand Company Nuka-Cola Delivery Truck Golden Ticket Promotion
Find one of the Golden Tickets hidden randomly with ten Nuka-Cola Delivery Trucks to win your very own hand-painted post-war, rusty Fusion Flea.
Not content with making the most gorgeous brand new die-cast 1:18 scale Nuka-Cola Delivery Truck, The Wand Company are giving away…
Ten dilapidated old post-war Fusion Fleas
hand-painted by Andy Hibbs, to ten lucky Nuka-Cola Delivery Truck owners who find a Golden Ticket in their Nuka-Cola Delivery Truck pack.
The ten 1:18 scale die-cast Fusion Fleas have been hand-painted to match the war-torn micro-vehicles as seen in the Fallout games, left strewn about the Wasteland landscape. These hand-painted specials are sure to be the perfect complement to any collection and will nicely offset the glossy perfection of the Nuka-Cola Delivery Truck. Covered in rust and with cracked canopies, these replicas would not look out of place abandoned by the side of a cracked road, 200 years from now, but nevertheless, they will look just swell in your present-day display.
Full details of the promotion together with the terms and conditions can be found below.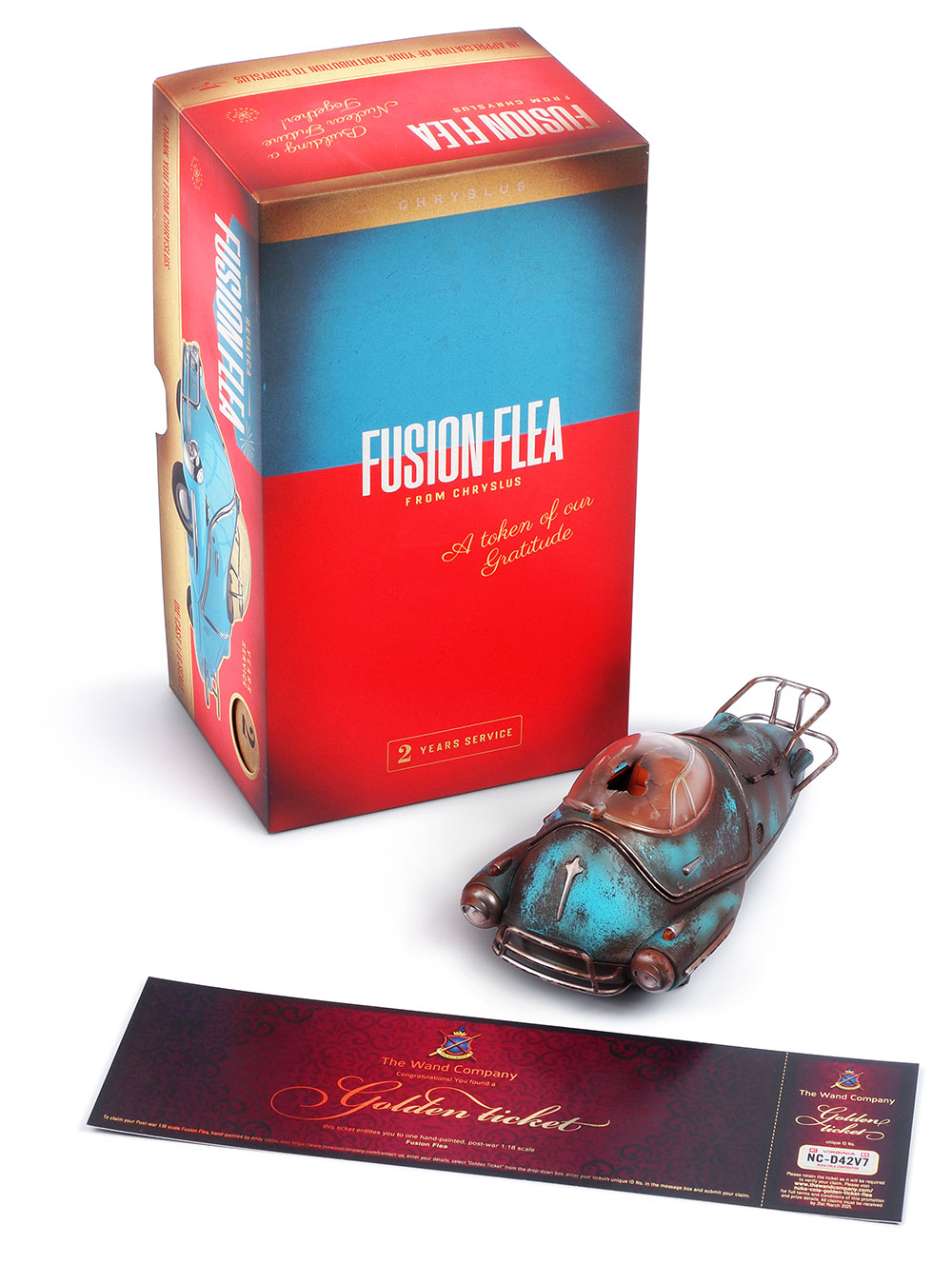 Hand-painted, post-war rusted Fusion Flea with distressed box and uniquely numbered golden ticket. Please note that due to their hand-painted nature, each prize Flea will be unique and slightly different from the picture shown.

A hand-painted, Post-War Fusion Flea, the Nuka-Cola Delivery Truck, and a sample of the Golden Ticket (note this ticket is not showing one of the valid unique ID numbers). More details about the Nuka-Cola Delivery Truck, what else comes in the pack and links to the Truck's Service Manual can be found here: https://www.thewandcompany.com/nuka-cola-delivery-truck/. The Golden bearing Ticket Nuka-Cola Delivery Trucks can only be purchased here: https://gear.bethesda.net/products/exlusive-fallout-nuka-cola-die-cast-delivery-truck. Note, we are really sorry, but that for techo-legal reasons Delivery Trucks sold in Europe will not carry the promotional Golden Tickets.
Summary Terms and Conditions
You must be 16 years old or over to apply. Purchase (including preorders delivered before the closing date) between 1st May 2019 and 31st December 2020. The Claim must be made by 31st March 2021. To enter, purchase a Nuka-Cola Delivery Truck from Bethesda Gear Store, and if you find a golden ticket, follow the instructions on the ticket to claim your Prize. Prizes: 10 x Post-war 1:18 scale Fusion Flea, hand-painted by Andy Hibbs. See below for full terms and conditions and further prize details.
Promoter: The Wand Company Limited, 820 The Crescent, Colchester Business Park, Colchester, Essex, CO4 9YQ.

Full Terms and Conditions
Entrants must be 16 years old or over, and can not be employees of the Promoter and anyone professionally connected with this Promotion.
Participants must ensure that their participation (including the acceptance of any Prize awarded) is lawful in accordance with the laws of the country of which they are a citizen and/or resides. This Promotion is void where void under local national laws. The Promoter shall not be taken to make any representations, express or implied, as to the lawfulness of any individual's participation, or as to any other aspect of any Promotion.
Purchase is necessary. Internet access required. Please keep the golden ticket as this will be required for validation and to claim the Prize.
Purchase Period: Purchase between 00.01 BST on the 1st May 2019 and 23.59 GMT on the 31st December 2020. Subject to availability, while stocks last.
Claim Period: Claim between 00.01 BST on the 1st October 2019 and 23.59 GMT on the 31st March 2021.
To Enter: Visit the Bethesda Gear Store and purchase 1 of 2800 Nuka-Cola Delivery Trucks during the Purchase Period. If you find a golden ticket inside the box of your Nuka-Cola Delivery Truck, follow the instructions on the golden ticket during the Claim Period to claim your Prize. Please note that only brand-new product from the Bethesda Gear Store will carry the promotional Golden Tickets. The 200 units of Trucks sold by Bethesda Store Europe will not carry the promotional tickets. If you buy your product second hand on an auctions site, such as eBay, regardless of what the seller claims, you can not be sure that the product hasn't been opened and thus the chance of finding a ticket in that instance is greatly reduced.
The Prizes: There are 10 tickets in circulation and 10 winners who find a golden ticket during the Purchase Period and claim during the Claim Period will each win a post-war 1:18 scale Fusion Flea, hand-painted by Andy Hibbs. Please visit The Wand Company for further information about the Prizes. The winners will be responsible for any applicable taxes related to the acceptance of the Prize.
Winner Selection: Up to 10 winners that find a golden ticket during the Purchase Period and follow the instructions on the ticket to claim their Prize during the Claim Period will win a Prize.
The winners should allow 28 days for delivery of their Prize from the date they are confirmed as a winner. Delivery will be free of charge using a courier.
The winners agree to allow the Promoter to use their surname and county/country of residence to announce the winners of this Promotion. Subject to the consent of the winners, the surname and county/country of the winners will be available by request, by emailing support@thewandcompany.com and by visiting www.thewandcompany.com/nuka-cola-golden-ticket-winners. The winners may object to their surname and county/country of residence being published or request for the amount of information being published to be reduced by stating their preference to opt-out when contacting The Wand Company to make their claim. The winners further agree to participate in any reasonable publicity required by the Promoter.
The Prizes are not transferable or exchangeable and cannot be redeemed for monetary value or for any other form of compensation. If for any reason a Prize is not available, the Promoter will substitute another prize for it of equal or higher value. The prize comprises of a standard Blue Fusion Flea that has been handpainted and strategically damaged by Andy Hibbs, thus the purchase value of each prize is approximately $250, not including shipping and taxes.
If for any reason any aspect of this Promotion is not capable of running as planned, including where there is infection by computer virus, network failure, bugs, tampering, unauthorised intervention, fraud, dishonesty, technical failures or any cause beyond the control of the Promoter which corrupts or affects the administration, security, fairness, integrity or proper conduct of this Promotion, the Promoter reserves the right to disqualify any individual who tampers with the entry process or does not comply with these Terms and Conditions and may cancel, terminate, modify or suspend the Promotion or invalidate any affected entries.
The Promoter and any associated agencies and companies will not be liable for any loss (including indirect, special or consequential loss or loss of profits), expense or damage which is suffered or sustained (whether or not arising from any person's negligence) in connection with this Promotion or accepting or using a Prize, except for any liability which cannot be excluded by law.  Nothing will exclude our liability for death or personal injury as a result of our negligence.
Any entry must be made directly by the person entering the Promotion. Entries that do not satisfy the requirements of these Terms and Conditions in full will be disqualified and will not be counted.
If an act, omission, event or circumstance occurs which is beyond the reasonable control of the Promoter and which prevents the Promoter from complying with these Terms and Conditions the Promoter will not be liable for any failure to perform or delay in performing its obligations.
Any personal data which relates to entrants will only be used for this Promotion by the Promoter and/or by any agent appointed by it to assist with the running of the Promotion on behalf of the Promoter unless the Promoter has the entrants' positive consent. Entrants' personal data will be handled in accordance with the Promoter's privacy policy, which is available at: https://www.thewandcompany.com/privacy-policy/.
If any provisions of these Terms and Conditions are judged to be invalid, illegal or unenforceable, this shall not affect or impact the continuation in full force and effect the remainder of the provisions.
By entering this Promotion, entrants agree to be bound by these Terms and Conditions.
In the event of a discrepancy between these Terms and Conditions and the details in any promotional material, the details in the Terms and Conditions shall prevail.
These Terms and Conditions are governed by English Law and their interpretation and application shall be subject to the exclusive jurisdiction of the courts of England and Wales.
Promoter: The Wand Company Limited, 820 The Crescent, Colchester Business Park, Colchester, Essex, CO4 9YQ.