(This article was first emailed on March 22nd, 2021 to fans who had registered an interest in finding out more about our Tricorder.)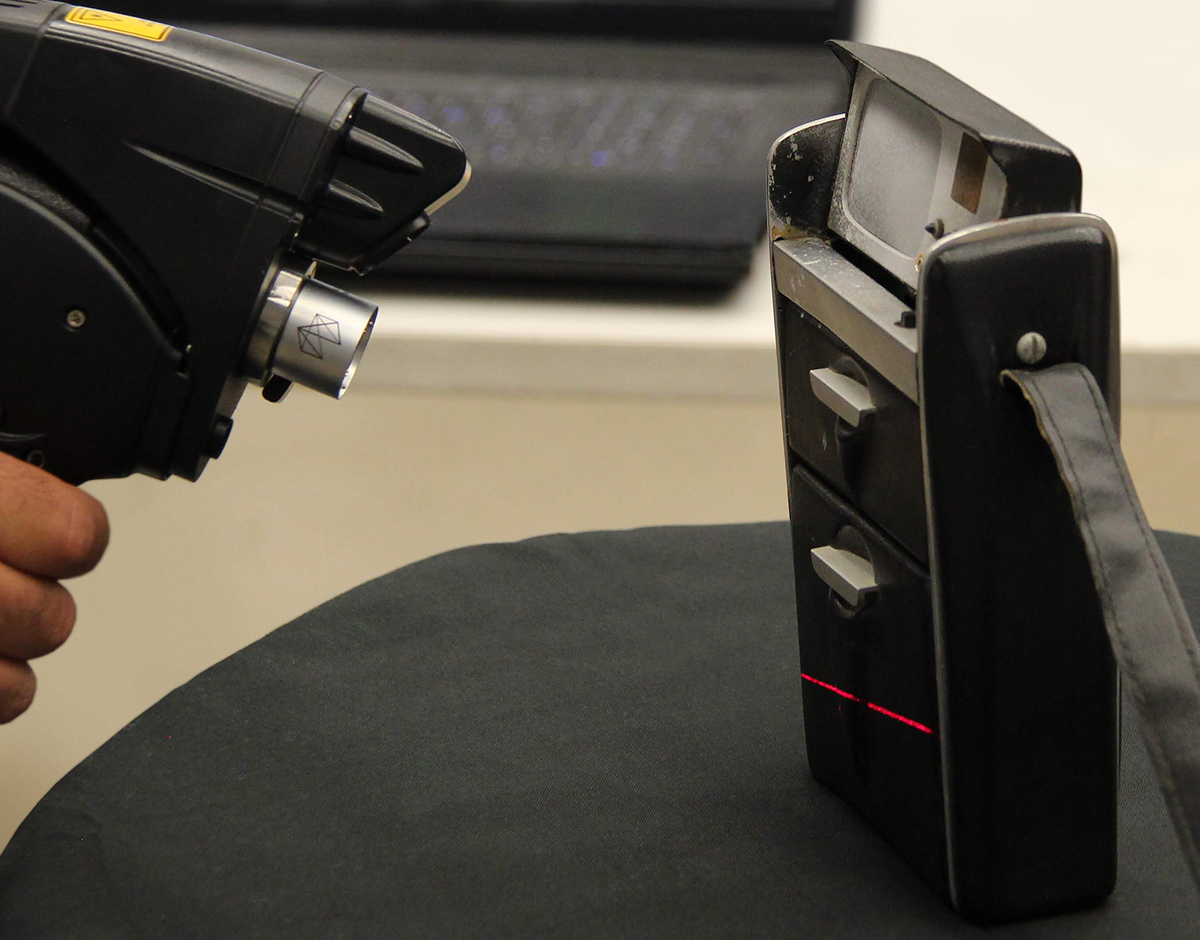 Certainly the most exciting (and probably the most important) stage of developing any prop replica from a movie or TV show is finding and studying the original screen-used prop.  Whilst there's often a wealth of information already shared by fans on the internet, and plenty of detail to be gleaned from remastered high-definition video, there's nothing quite like getting hands-on access to an original "hero" prop.
In the creation of our Star Trek prop replicas, we're honoured to have become friends with Greg Jein, a legendary model-maker who worked on Star Trek for around 20 years and also built props for many other sci-fi films, such as the incredible mothership in Close Encounters of the Third Kind, which is on display at the Smithsonian (Steven F. Udvar-Hazy Center in Chantilly, VA) and, having been lucky enough to see it ourselves first hand, we highly recommend visiting the museum if you're ever near Washington Dulles airport and have some time to spare.
Greg has always been a huge fan of Star Trek and a lifelong collector – he owns several of the last remaining screen-used hero props from The Original Series, including the phaser (3D scans of which we used to shape our own Phaser replica back in 2014), and the sole remaining tricorder, which he kindly agreed to let us study for this project.
Greg's tricorder is one of the two originals that were made by the late, great, Wah Chang in June 1966, long before anyone knew how enduring Star Trek and his prop designs were to become.  The HeroComm website nicely summarises the history of the tricorder props, and designates the one in Greg's collection as the "Wah A-B" (so-called because parts of the original two "A" and "B" units were swapped around after Season 1).
We're based in the UK and Greg lives in California but when the tricorder project kicked off, in the pre-pandemic world of unfettered international travel, arranging a short trip to the West Coast to see our old prop-building friend was our first priority.  So in early November 2019, Andrew Stockdale and Richard Blakesley flew over to Los Angeles to meet Greg Jein and his tricorder.
Arriving in the evening at LAX after an eleven and a half hour westward flight, Richard decided to walk from the airport to the hotel rather than use the courtesy bus or take an Uber. This could have been a good idea, but he has a habit of underestimating how long it takes to walk to or from airports, and of forgetting that they're not usually designed for arrival or departure on foot.  An hour or two later, Andrew and Richard dragged their bags of equipment into the hotel lobby, had a quick meal and tried to get some jet-lagged sleep.  The following morning, a heartily restorative American breakfast was definitely required to prepare them for the big day ahead.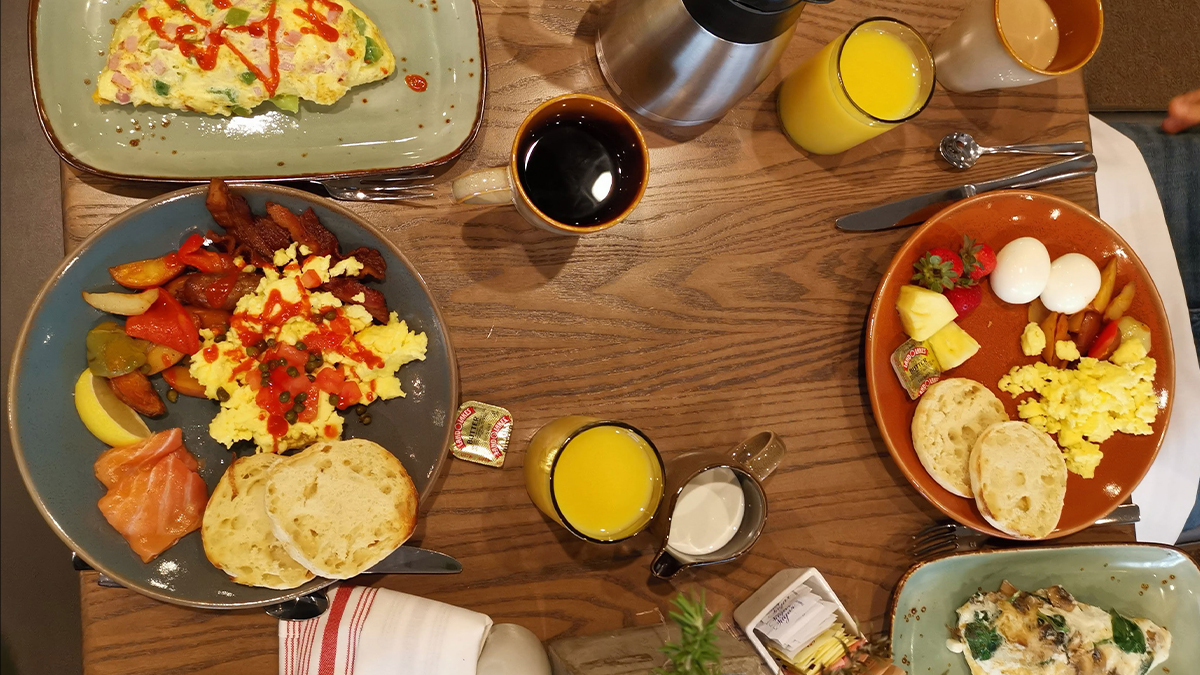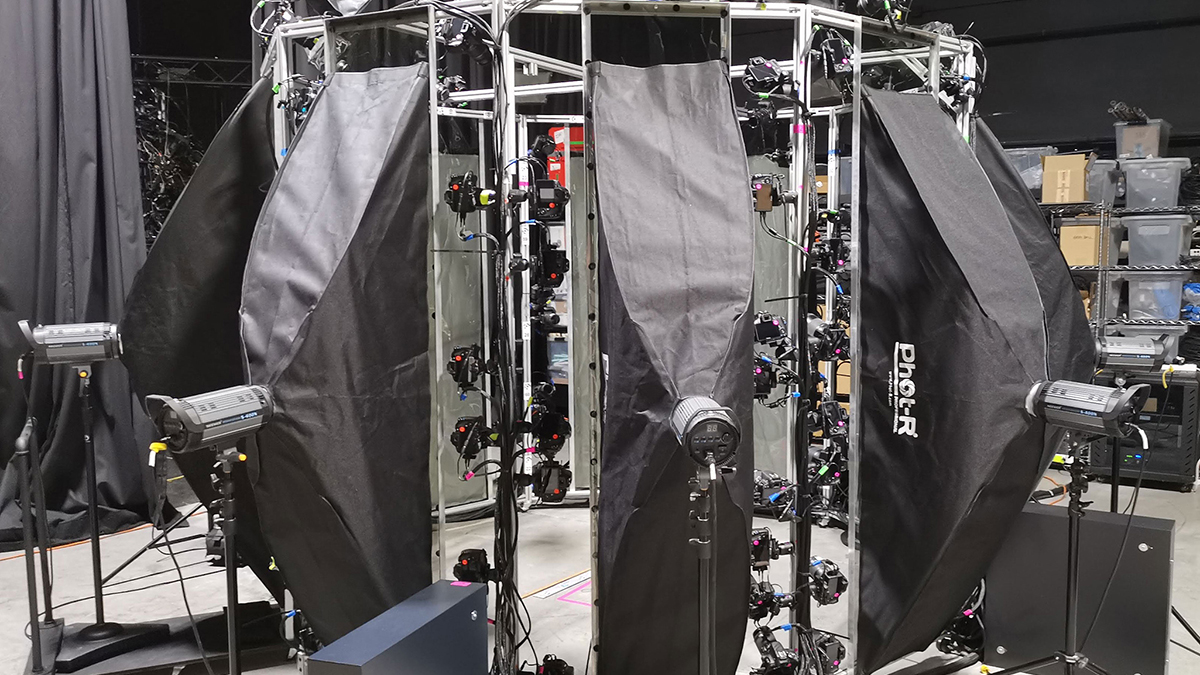 The 3D-scanning of Greg's phaser prop in 2014 had been done at Gentle Giant Studios in Burbank, under the supervision of Brian Adler, but he has since set up his own studio, Protagon, which was our destination this time.  Finding Brian was no problem – tracking down Greg (who, some would say very sensibly, chooses not to own a mobile phone) was a little more difficult. But after Richard spent some more time walking around the streets of Los Angeles under the hot morning sun, eventually everyone was gathered in the studio and ready to study our holy grail, the original hero tricorder. (It was 80°F that day, and for us Brits, anything above 50°F in November is quite unholy.)
Scanning actors for visual effects (VFX) in movies, TV shows and videogames is usually done via a technique called photogrammetry, involving large arrays of over 100 DSLR cameras arranged in a system that looks like it might have been a prototype Star Trek transporter.
However, the 3D scanning of inanimate objects is more accurately performed with either a laser scanner or a "structured light" scanner.  For the tricorder, we used a Hexagon Metrology system comprising a ROMER Absolute Arm with an RS3 laser scanning head.  The arm is balanced to enable the operator to move the laser scanner smoothly around the subject, and contains seven precision encoders to keep track of the exact position of the scanning head.
As reflective surfaces (such as metal and glass) do not scan well, before the scanning could start, the glossiest parts of this priceless prop were gently spray-coated with a scary-looking but, everyone was assured, totally harmless self-vanishing 3D-scanning spray. Greg oversaw this process to make sure that the prop wasn't damaged.
Under Greg's patient and watchful eye, the laser scanner's 65 mm long blade of red light 'painted' over the surface geometry of the tricorder, rapidly measuring the distance from the scanning head to the surface 4,600 times per line, plotting highly accurate positional coordinates that stitched together to build up a three-dimensional point cloud of the tricorder's surface. On a nearby laptop, a 3D image seemed to appear out of thin air as more and more of the surface was scanned.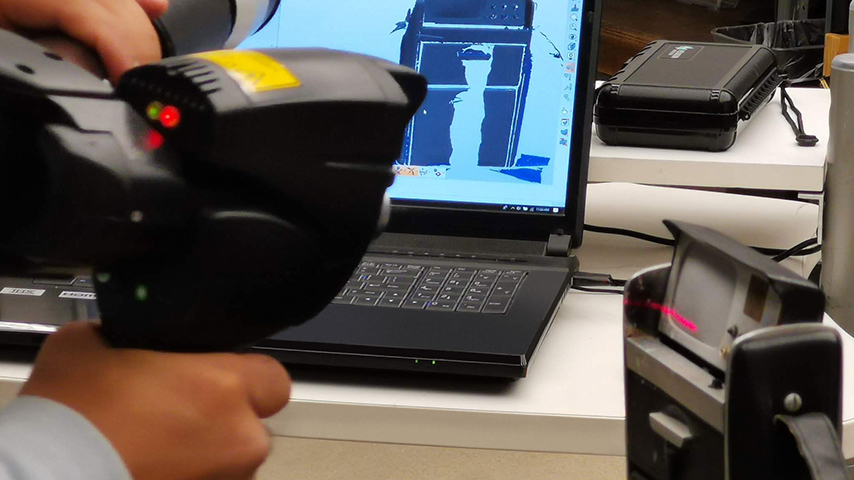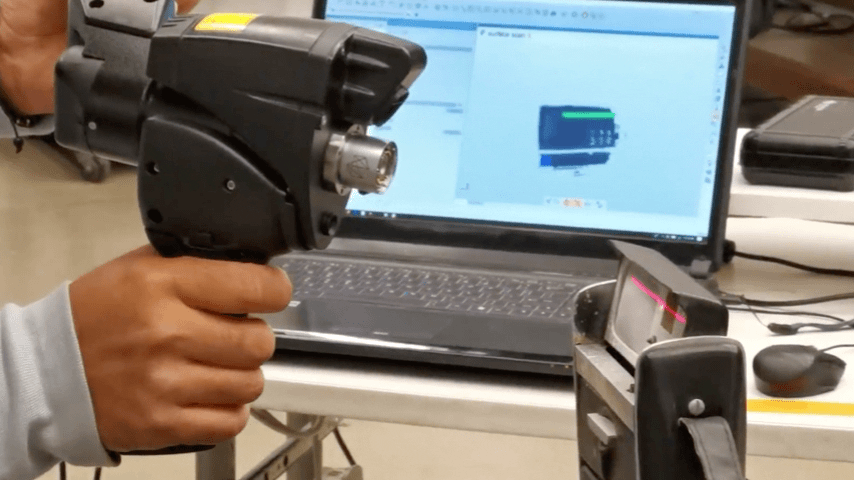 After checking with Greg that doing so would not damage the prop, Andrew opened the tricorder's top and bottom doors to peer inside. As expected, the top compartment was almost completely lacking in internal features. Those details – the rack of "memory discs" and the circular moiré element – known now only from what can be seen in first season screencaps, are long gone.  At some point in the summer of '67 after the end of Season 1, the production team decided that they needed more tricorder props.  The two original masterpieces were taken apart so that copies could be made and, in the process, the original props were damaged and eviscerated, with the original guts now lost forever.  Opening the lower door revealed some slightly more interesting details, which Andrew has since been keen to include in our replica.
The 3D scan data is a fantastic resource for guiding our CAD modelling, but we also took as many physical measurements as possible. The measurements provide a good old-fashioned control reference and, equally importantly, handling these classic props always brings us closer to understanding the original designer's intent. Studying these incredible items with our own hands and eyes helps us to bond with them and become immersed in their story, in a more powerful way than just watching a 3D scan emerge on a computer screen.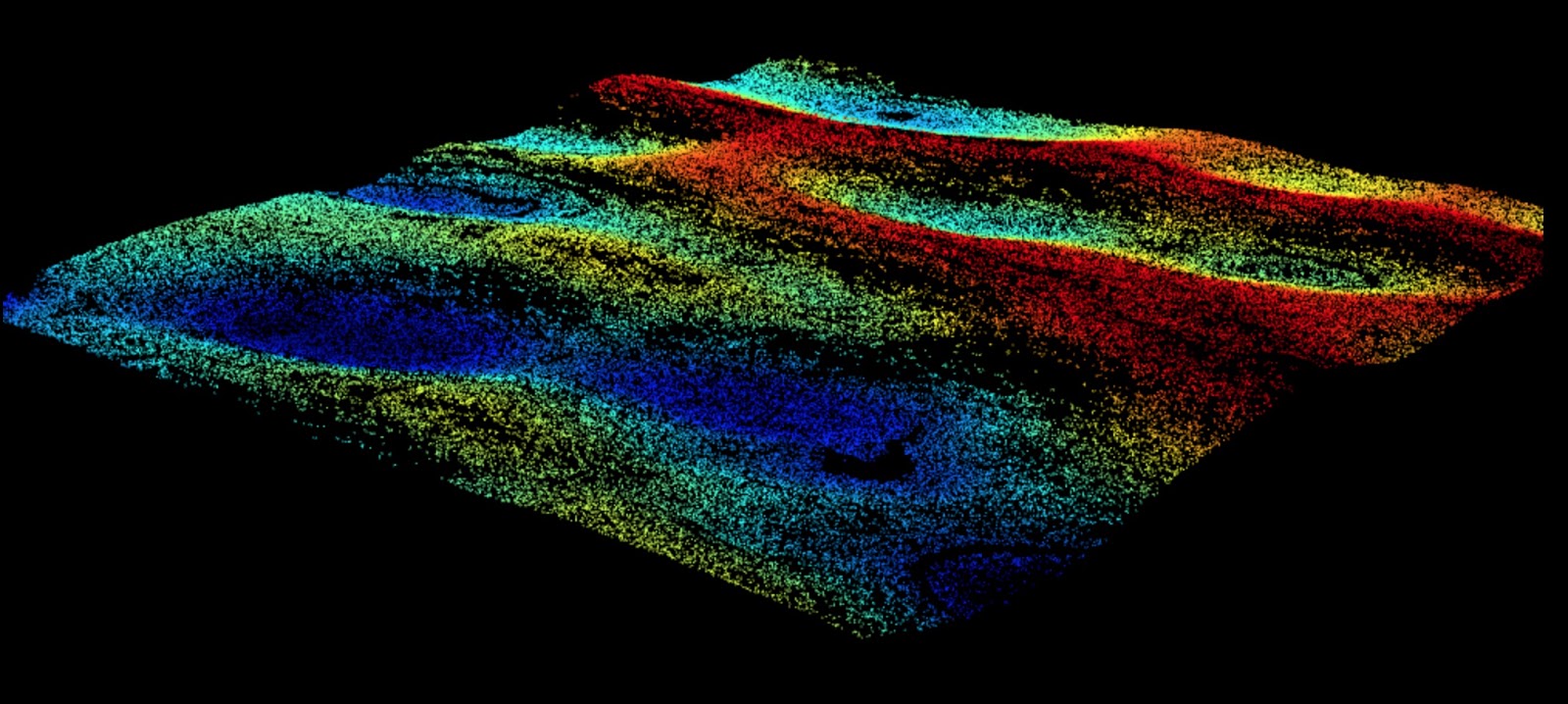 The 30-micron (just over one-thousandth of an inch) accuracy of the 3D scan data is great for the overall geometry, but even finer resolution is needed to analyse the surface texture of the black Kydex material from which most of the tricorder's body is made.  We had already studied this material when developing our Star Trek Communicator replica, and had been generously loaned a piece of the original 1960s Kydex by HeroComm, which we had been able to scan with a Zygo 3D surface profiler which uses white-light interferometry to measure the surface undulations with an incredible 1-nanometer resolution (a strand of human DNA is 2.5 nanometers thick!).  However, to check the way that Wah Chang's vacuum-forming process might have stretched the Kydex texture in different regions of the tricorder, we took a few silicone rubber impressions of the surface.
For further reference, we weighed the tricorder and, of course, measured the geometry of the strap and its stitching, before saying goodbye to Greg, Brian and his colleagues and catching the early-evening flight back to the UK.
Ironically, despite travelling trillions of miles from earth in its fictional lifetime, in the 55 years since it was made, the hero tricorder hasn't ventured far from its birthplace in West Poppyfields Drive, Altadena, just 30 miles away from where it was immortalised by the red laser light on that morning in November 2019. 
For us, the 9,000-mile round trip from Cambridge to California was only the start of a long development journey. Yet in some respects, it was also the beginning of the end of a longer journey that has seen The Wand Company develop the Phaser and Communicator replicas and now, with the development of the Original Series Tricorder, we're delighted to finally complete what may be the most hallowed of science fiction trinities, the Landing Party Set.
Fans who register with us will be the first to read our news and the progress of this exciting Tricorder development and, later, where and when to purchase it. You can catch up with the story so far here on this blog, but if you haven't already done so, why not register your interest in the Tricorder – you'll then receive a personalised registration certificate and early access to these updates (before we publish them on our website).